Blog
To Corporate Executive Chef Brigitte, Fall is all about cozying up on the couch with a hearty meal & the Ravens game on TV!
And her all-time favorite Fall food has got to be the fresh local Oysters! That's why she's giving YOU her recipe for our Bay-O Oyster Po' Boy!
Check out the recipe below!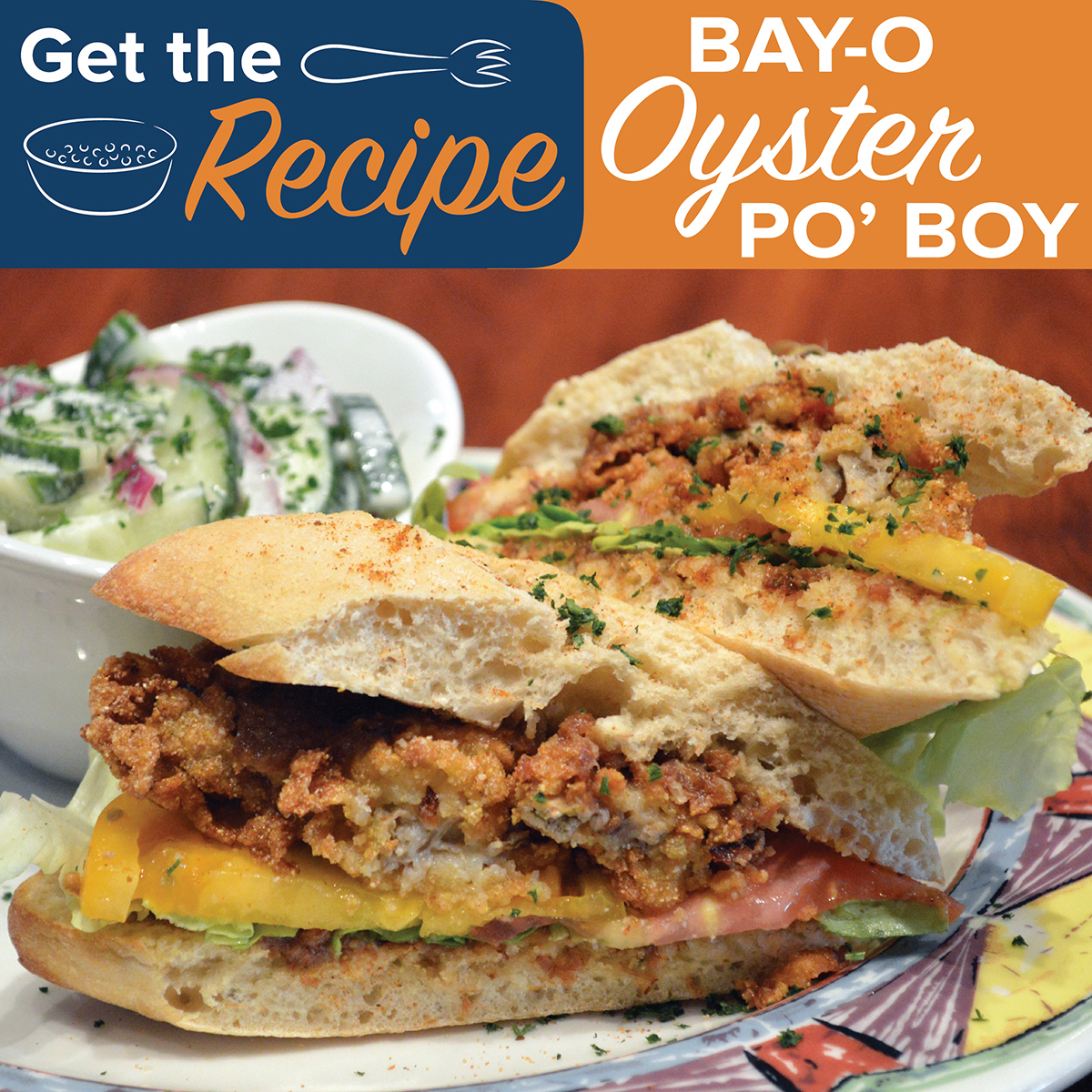 Bay-O Oyster Po' Boy Sandwich
Recipe courtesy Brigitte Bledsoe
Yields: 1 sandwich
STEP 1: TABASCO BACON ONION JAM
16 slices of Applewood-Smoked Bacon, raw

2 teaspoons Olive Oil

1 each small Sweet Onion, julienned

2 teaspoons Garlic, chopped

2 tablespoons Brown Sugar

3/4 cup brewed Coffee

3 tablespoons Maple Syrup

3 tablespoons Apple Cider Vinegar

1 teaspoon Tabasco Sauce

1/4 teaspoon ground Black Pepper
1. Pre heat oven to 375 degrees F.
2. Chop cold, raw Applewood-Smoked Bacon and spread evenly on a sheet tray.
3. Place into a preheated oven and bake for 5-10 minutes, checking often. You want the Bacon to be dark and crispy, but not burnt. Once finished, remove tray from oven and set to the side.
4. In a large pot, over medium to high heat, add Olive Oil.
5. Add julienned Onions into pot and stir occasionally. You want to brown the Onions until they are soft, but not burnt. About 4-5 minutes.
6. Add in the Garlic, stir and cook for another minute.
7. Add the remaining ingredients to the pot, including the cooked Bacon and all of the bacon grease!
8. Stir in Brown Sugar, Coffee, Maple Syrup, Apple Cider Vinegar, Tabasco Sauce & Black Pepper until mixed well.
9. Simmer over medium/low heat for about 2 hours until reduced, dark in color and all ingredients are soft. Stir occasionally, so as not burn or stick to the bottom. (If it appears too dry up you may add about a 1/4 cup of water if necessary)
10. Remove pot from heat and let come to room temperature.
11. Once cooled, place into a food processor and blend until no large lumps are visible. About 1-2 minutes.
12. Place finished Tabasco Bacon Onion Jam into a squeeze bottle to use. Store in refrigerator, when not using.
STEP 2: OLD BAY REMOULADE
1/4 cup Capers, chopped

2 cups Mayonnaise

1/4 cup Lemon Juice

1 teaspoon Old Bay

1 teaspoon Hot Sauce
1. In a small mixing bowl place chopped Capers, Mayonnaise, Lemon Juice, Old Bay, and Hot Sauce.
2. Using a wire whisk, mix all ingredients together until well incorporated.
3. Transfer finished sauce into a squeeze bottle and refrigerate until ready to use.
STEP 3: FRIED OYSTERS
1-2 cups Buttermilk

1 quart local, pre-shucked Count Oysters

1 cup Flour

2 cups Yellow Cornmeal

2 tablespoon Cajun Spice

1/2 cup Sugar

Oil for frying (corn or canola)
1. Combine Flour, Cornmeal, Cajun Spice & Sugar in a bowl and mix.
2. Soak pre-shucked Oysters in Buttermilk, then coat well in the dry ingredients mix.
3. Once Oil is hot, gently place the coated Oysters in Oil to fry.
4. Flip Oysters, if not completely submerged.
5. Each Oyster should take about 2-3 minutes.
6. When golden brown and cooked through, remove Oysters from heat and place on paper towels to drain grease.
7. Sprinkle each with Salt and Pepper, to taste.
STEP 4: BAY-O OYSTER PO' BOY
1 each Ciabatta Sandwich Bread

1 tablespoon Bacon Onion Jam

1 tablespoon Remoulade

2-3 leaves of Bibb Lettuce

1 slice Red Tomato

1 slice Yellow Tomato

5 Fried Oysters
1. Cut Ciabatta Bread in half length-wise and place in oven (350 degrees F) or toaster oven to warm and crisp up. 2-3 minutes.
2. Spread Tabasco Bacon Onion Jam on bottom half of Ciabatta slice.
3. Spread Old Bay Remoulade on top half of Ciabatta slice.
4. Place a few leaves of Bibb Lettuce on top of Tabasco Bacon Onion Jam.
5. Place Red and Yellow Tomato slices on top of Lettuce.
6. Place 5 Fried Oysters on top of Tomatoes.
7. Place top half of Ciabatta slice on top and cut sandwich in half with a knife.
8. Enjoy!