Blog
With the Fall chill in the air, it's no surprise that October honors one of our favorite cool weather comfort foods - Chili!

To celebrate National Chili Month, we're giving YOU an exclusive look into Miss Shirley's kitchen.

Get the recipe for our go-to Cowboy Beef Chili, topped with House-Made Cornbread, below!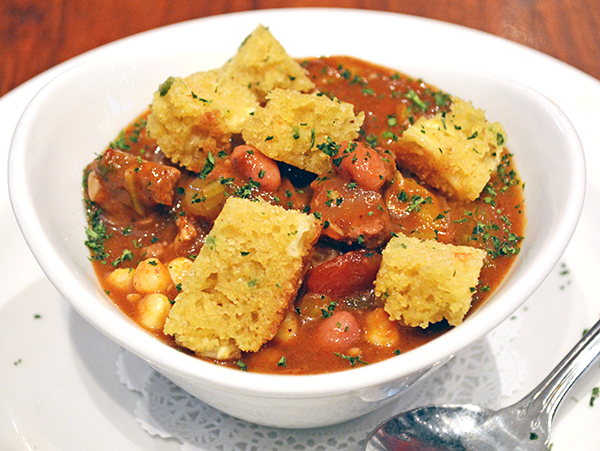 Cowboy Chili
Yields: 6 servings
INGREDIENTS - CHILI
1 1/2 pounds stew meat, diced into 3/4-inch cubes

1 spanish onion, diced

4 cloves garlic, minced

1 jalapeño, minced

1 red pepper, diced

1 (28-ounce) can diced tomatoes

2 teaspoons cumin

2 tablespoons chili powder

2 (15-ounce) cans kidney beans or pinto beans, drained and rinsed

1 cup roasted corn

1 beer of choice

1 bunch green onion chopped

1 bunch cilantro chopped

Salt and pepper to taste
METHOD - CHILI
1. Season stew meat with salt and pepper, to taste.
2. Heat olive oil in a Dutch oven or large pot over medium high heat. Add stew meat and sear until browned, about 2 minutes.
3. Add onion, garlic, jalapeños, and peppers and cook until fragrant, about 1-2 minutes.
4. Stir in diced tomatoes, cumin, chili powder, beans and beer, making sure to cover most of the ingredients.
5. Reduce heat to low; simmer, covered, stirring occasionally, until meat is tender, about 90 minutes.
6. Stir in corn, green onion, and cilantro. Season to taste with salt and pepper.
7. Serve immediately with Miss Shirley's House-Made Cornbread - recipe below.
Miss Shirley's House-Made Cornbread
Yields: 15 squares
INGREDIENTS - CORNBREAD
3 each large eggs

2 ¼ cup buttermilk

8 ounces melted butter

1 ½ cups roasted corn

½ cup peppadews, drained and chopped

2 tablespoons chopped fresh chives

1 ½ cup cornmeal

1 ½ cup flour

1/3 cup brown sugar

1/3 cup sugar

2 ½ teaspoons baking powder

1 teaspoon baking soda

1 teaspoon salt
METHOD - CORNBREAD
1. Preheat oven to 350 degrees.
2. Butter a 9x13 inch baking dish.
3. In a large bowl mix together the cornmeal, flour, brown sugar, sugar, salt, baking powder and baking soda.
4. In another bowl, mix together the egg, buttermilk, peppadews, roasted corn & chives. Add into the flour mix until just incorporated.
5. Add in the melted butter until just mixed together, do not overmix.
6. Pour batter into greased pan and place in oven.
7. Cook for about 15 to 20 minutes, rotating dish half way through.
8. Cornbread should be slightly browned and when a toothpick is inserted in the center, it should come out clean.
9. Let cool completely to room temp and then cut into squares and serve with Cowboy Chili as garnish, or on the side.
10. May be refrigerated for 4 to 5 days and reheated.