Blog
Each year, The Baltimore Sun asks readers for feedback on their local favorites, including Food & Dining. Voting for the Best of 2022 Readers' Choice Awards will be going on May 16th through May 29th.
If Miss Shirley's Cafe is your go-to spot for award winning Breakfast/Brunch & Lunch, or relaxing Outdoor Dining, please take a second to vote for our local, family-owned restaurants! And, if you love the flavor & flare of our delectable dishes, monthly specials and seasonal staples, be sure to vote for Miss Shirley's Corporate Executive Chef Zuri Coles as Best Chef!
"View Entire Post" to Learn more about Chef Zuri or VOTE NOW:
Zuri Coles
Corporate Executive Chef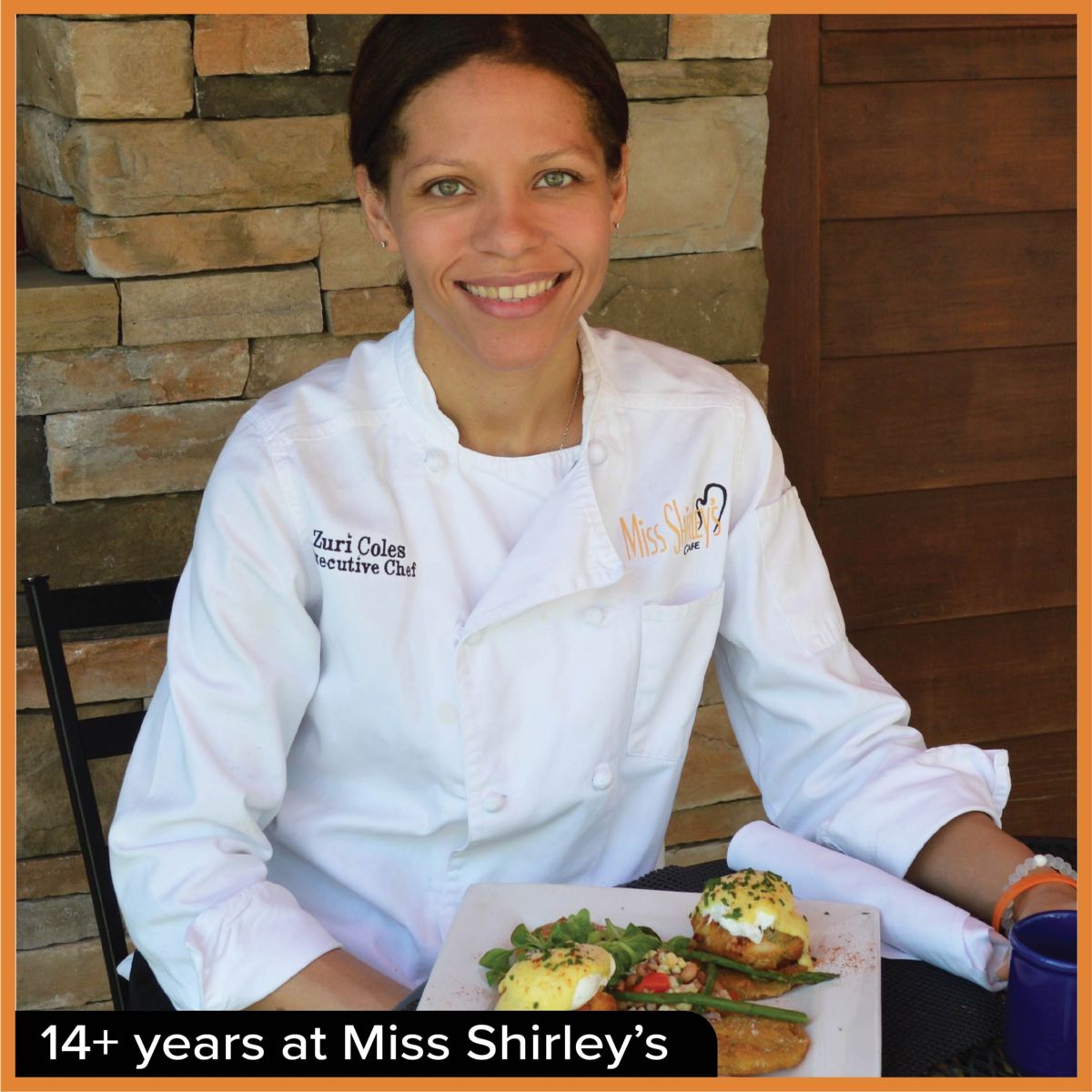 Miss Shirley's Corporate Executive Chef, Zuri, has had a lifelong passion for cooking, which began when she was just a child. Her parents loved to cook, and were always happy to let her experiment in the kitchen. "I learned a lot from my parents, like how to make roux."
Growing up as an avid reader, Zuri enjoyed researching recipes and watching countless episodes of cooking shows like Julia Child, The Galloping Gourmet, and Yan Can Cook on PBS. "I would request cookbooks as holiday gifts!"
After graduating from Loyola University Maryland, she decided to try out culinary school, to turn her lifelong hobby into a career. Zuri finished her education at Johnson and Wales University in 2000, and immediately began working her way up the ranks in the restaurant industry!
She gained experience in Catering and Fine Dining, working in various establishments throughout the Maryland and Washington, D.C. areas. But in 2008, Zuri found a home in Maryland, and as a Chef at Miss Shirley's Cafe. She was later promoted to the role of Executive Chef at our Roland Park location in 2014 & became Corporate Executive Chef in 2021; now managing the Culinary Team at all of our restaurant locations!
In fact, you have likely seen Zuri on FOX45, WBAL, WMAR, WJZ or DC's FOX 5 talking about promotions & new dishes, or on Miss Shirley's social media and Youtube Channel, sharing recipes for our southern classics!
Throughout the pandemic and restaurant dine-in closures, Zuri rolled up her sleeves and went to work, helping to prepare over 18,800 meals in partnership with World Central Kitchen, to be provided to seniors & families in vulnerable communities throughout Baltimore City.
When Miss Shirley's Cafe began our initiative to Feed First Responders, Zuri crafted a delicious menu for individually boxed meals, and led our Culinary Team with ease, in preparing, packaging & providing an additional 1,270 meals to area Healthcare Workers, Community Organizations, Police & Fire Personnel, donated by our loving guests!
Zuri has been cooking professionally for over 21 years, and a Chef at Miss Shirley's Cafe for 14+ years! Her creativity and experience are invaluable, as she continues to play the key role in the creation of our seasonal menu and monthly specials, and ensures that our Culinary Team is always producing the highest quality dishes. Her love of baking has also inspired delicious dessert items on our menu, as well as sweet treats that she whips up for our team regularly!
Zuri is hard working, dedicated, personable and passionate about the taste and presentation of our food. In fact, her favorite thing about working at Miss Shirley's is the satisfaction of knowing how much our guests truly love our menu, and appreciate the experience that they have at the restaurant.
"The goal is always to make our guests happy, and I love making dishes that people want to eat again and again, and even recreate for themselves!"
VOTE FOR ZURI & MISS SHIRLEY'S CAFE -> BaltimoreSun.com/best