Blog
There's no better way to chase away the winter chill than with a nice, hot bowl of Miss Shirley's Chicken Pot Pie Soup, topped with a freshly baked Mini Pimento Cheese Biscuit.
Get the recipe below to simmer up this seasonal soup at home; or let us do the work and order family-sized quarts of our Chicken Pot Pie Soup or Shirley's Gumbo online from Roland Park, Inner Harbor or Annapolis HERE.
Don't forget to follow us on Pinterest for more of Miss Shirley's signature & seasonal recipes.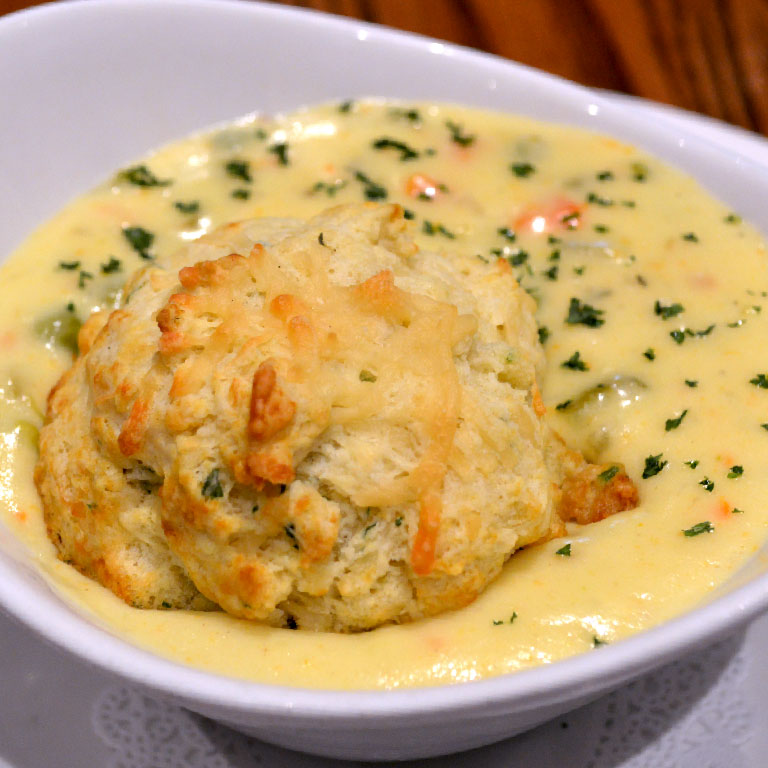 CHICKEN POT PIE SOUP
Recipe courtesy of Miss Shirley's Cafe
Yields: 4 - 6 Servings, 1 ½ Quarts
INGREDIENTS
½ cup & 2 tbsp - Unsalted Butter

½ cup - All Purpose Flour

1 each – Carrot, peeled & diced

2 stalks - Celery, diced

½ Large - Onions, diced

2 tsp – Fresh Garlic, chopped

2 tbsp – White Wine

2 cups - Chicken Broth

2 each – Yukon Gold Potato, skin on, diced into ½ inch pieces

¼ tsp – Ground Nutmeg

¼ tsp - Thyme

½ cup – Green Peas, frozen or fresh

1 cup - Heavy Cream

1 cup - Milk

1 tbsp – Fresh Parsley, chopped

1 large (8-10 oz) – Cooked Chicken Breast, diced

Salt & Pepper to taste
1. In a medium pot, melt the ½ cup butter over low heat and whisk in flour, stirring constantly until thickened (making a roux). Set aside.
2. Dice the celery, carrot, onion & potatoes.
3. In a large pot, melt 2 tbsp butter over medium heat.
4. Add the diced celery, carrot and onion to the pot, and sauté for 2-3 minutes.
5. Stir in the garlic, nutmeg and thyme, and cook for another minute.
6. Stir in the wine and cook for about 1 minute.
7. Add in the chicken broth and then bring to a simmer.
8. Add in the potatoes and cook for about 5 minutes.
9. Stir in roux with a whisk and cook for 3-4 minutes, stirring occasionally.
10. Add in the peas and stir.
11. Add in cream and milk, whisking well.
12. Cook for 3-4 more minutes at a simmer.
13. When thickened, add in the diced, cooked chicken breast.
14. Add fresh chopped parsley, salt & pepper to taste.
15. Top with a Pimento Cheese Biscuit (recipe below) and enjoy!
MINI PIMENTO CHEESE BISCUITS
Recipe courtesy of Miss Shirley's Cafe
Biscuits: Yields 1 ½ dozen
INGREDIENTS
¾ cup + 2 tbsp - Unsalted Butter

1 ½ cup - Buttermilk

2 tbsp - Honey

¼ each - Jalapeño Pepper, diced

½ cup - Jarred Pimentos, diced

½ bunch - Green Onions, diced

3 cup - All Purpose Flour

3 tsp - Baking Powder

1 tsp - Baking Soda

2 tsp - Sugar

1 1/2 tsp - Salt

3 oz - Cream Cheese

½ cup - Shredded Cheddar Cheese
1. Preheat oven to 350 degrees.
2. Melt ¾ cup butter for about 10-20 seconds in a plastic container covered with plastic wrap. **Butter should not be hot or fully melted, just slightly soft & still a little chunky.
3. Pour cold buttermilk and honey into the melted butter and stir to form lumps.
4. Finely dice the jalapeno & green onion.
5. Drain and dry pimentos and then rough chop them.
6. Place flour, baking powder, baking soda, sugar & salt into a large bowl and mix.
7. Add the diced jalapeno, green onion and pimentos to the dry ingredients and toss to coat.
8. Add the cream cheese in chunks to the dry ingredients.
9. Pour in the buttermilk mix and, using your hands, mix the dough slightly until it comes together. **Do not over mix and do not make the chunks of Cream Cheese disappear.
10. Melt 2 tbsp butter in a small bowl.
11. Line a sheet tray with parchment paper and brush with the melted butter.
12. Form the dough into mini biscuits (about 18) and arrange on the tray, spacing evenly.
13. Brush the tops of biscuits with more butter and sprinkle shredded cheddar on top of each biscuit.
14. Bake for 15-17 minutes until golden brown and cooked through, rotating the tray about halfway through cooking.
15. Serve hot & enjoy!