Blog
Can't get enough of Miss Shirley's Pumpkin Cheesecake Stuffed French Toast special from last month?

The winter season is the perfect time to cozy up in the kitchen and share in the joy of cooking, so if this seasonal special is one of your favorites for Holiday Brunch with the family, you're in luck!

Get the recipe below to make it at home, and don't forget to follow us on Pinterest for more recipes!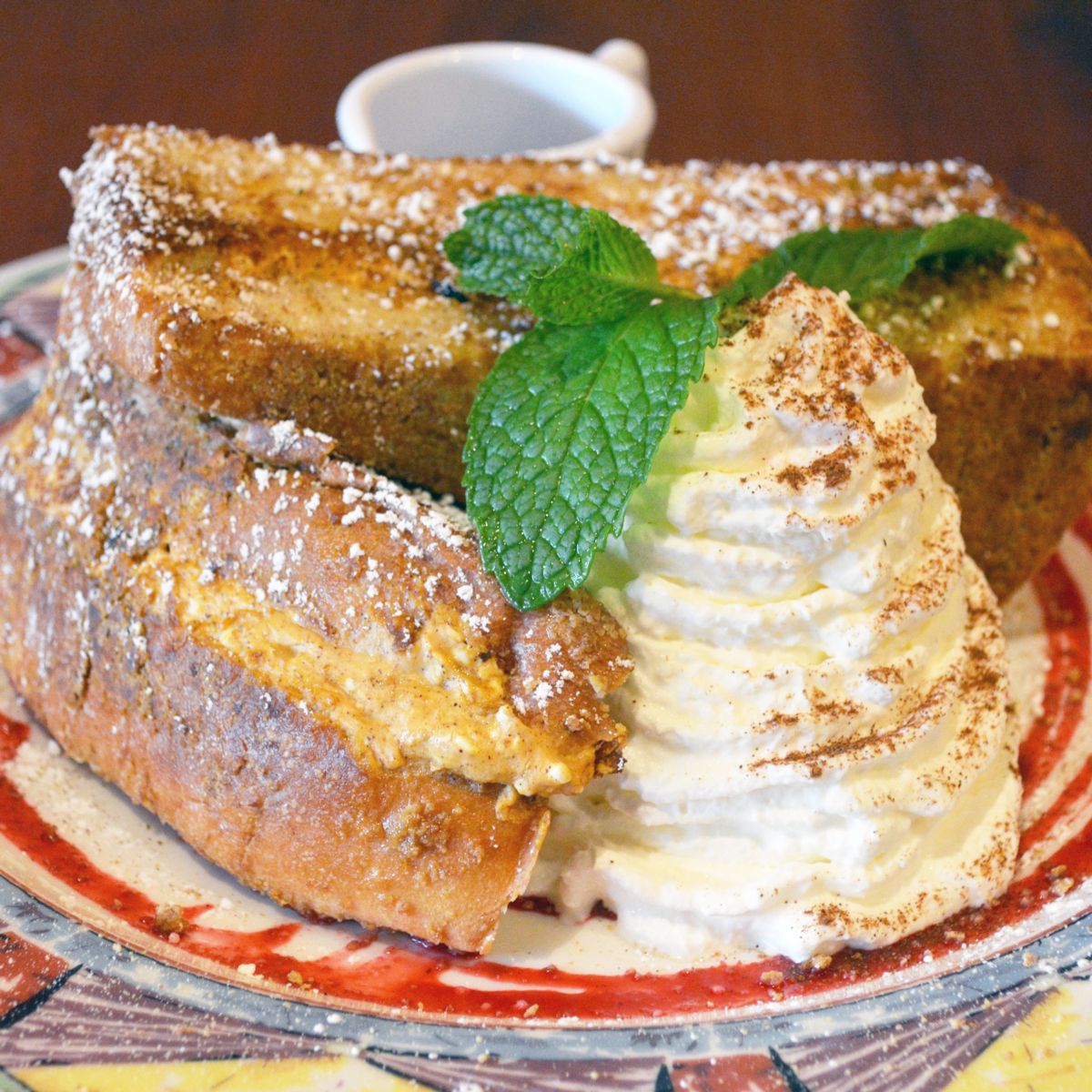 PUMPKIN CHEESECAKE STUFFED FRENCH TOAST
(Yields: 4-6 servings)
Miss Shirley's Cafe
PUMPKIN CHEESECAKE FILLING:
1 pound (2 - 8 oz packages) cream cheese, softened at room temperature

1 can (15 oz) packed pumpkin (unflavored)

½ cup packed brown sugar

1 teaspoon ground cinnamon

1 teaspoon vanilla extract
1. In a large bowl, whisk cream cheese, using an electric mixer.
2. Mix at a medium speed for 1-2 minutes.
3. Add in the pumpkin, sugar, vanilla, and cinnamon.
4. Wisk 2-3 minutes, or until smooth.
5. Set aside.
FRENCH TOAST BATTER:
8 each eggs

1 cup whole milk

½ cup heavy cream

¼ cup brown sugar

½ teaspoon vanilla extract

¼ teaspoon imitation almond extract

½ teaspoon ground cinnamon

¼ teaspoon ground nutmeg
1. Place all ingredients in a large bowl.
2. Using an electric mixer, whisk until smooth.
PUMPKIN CHEESECAKE STUFFED FRENCH TOAST:
1 loaf unsliced Challah bread

1-2 cups graham cracker crumbs

1-2 tablespoons vegetable oil

1-2 tablespoons butter

whipped cream
1. Slice bread into thick slices, roughly 2 inches thick, making a slit down the middle of the bread for stuffing (should get about 5 pieces out of 1 loaf of Challah).
2. Spread the filling into the slit in the bread, but be careful not to overflow the filling out of the top.
3. Heat a large pan over medium heat with small amount of vegetable oil and a pat of butter just to coat the bottom of the pan.
4. Dip the bread into the batter coating all sides.
5. Dip bread in graham cracker to coat both sides.
6. Place in pan and brown slowly on each side so that the filling becomes hot.
7. Remove from pan when heated thoroughly.
8. Slice on a diagonal in half and place on plate.
9. Add a dollop of fresh whipped cream.
10. Dust with cinnamon & powdered sugar and enjoy!