Blog
Today is one of Miss Shirley's favorite national holidays - National Egg Day! There are over a hundred different ways to cook this delicious, protein-packed breakfast staple, but at Miss Shirley's Cafe, one of our favorite ways to incorporate eggs is in our much-loved Eggs Benedict!

So, in celebration of this fun food holiday, we thought we'd share one of our favorite recipes - Miss Shirley's Signature Crab Cake & Fried Green Tomato Eggs Benedict!
Get the recipe below, and don't forget to follow us on Pinterest for more of our delicious southern recipes!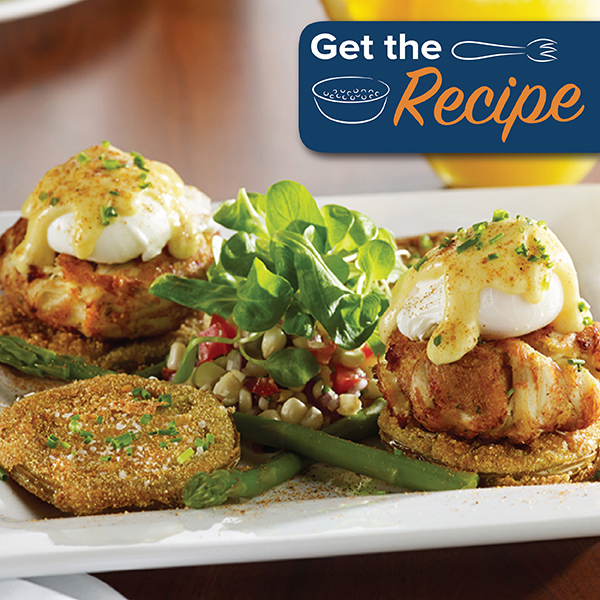 Crab Cake & Fried Green Tomato Eggs Benedict
Recipe courtesy of:
Miss Shirley's Cafe - Corporate Executive Chef Brigitte Bledsoe
Yields: 4
Ingredients:
2 Eggs

2 3-oz Crab Cakes

1 oz Diced Tomatoes

4 Asparagus Spears, cooked to preference

4 Fried Green Tomatoes

1 tsp Fresh Chives

2 oz Hollandaise Sauce of choice

1 pinch Old Bay

1 scoop Corn & Tomato Relish
1. Place 4 Fried Green Tomatoes at the four corners of a large plate.
2. In center of plate, place a scoop of Corn & Tomato Relish, and lay Asparagus around Relish.
3. Place one 3-oz Crab Cake each on two Fried Green Tomatoes, opposite each other on plate.
4. Poach 2 eggs and place one on top of each Crab Cake.
5. Top each Egg with Hollandaise Sauce, and sprinkle with Chives.
6. Sprinkle Old Bay over entire dish, and serve.
CORN & TOMATO RELISH
Ingredients:
2 Corn on the Cob

½ Red Bell Pepper

¼ Red Onion

1 tsp Fresh Chives

1 tsp Diced Jalapeno Pepper

1/8 tsp Lemon Juice

Garlic Clove

1/8 cup Diced Tomatoes

1 tbsp Red Wine Vinegar

1 tbsp Blended Oil

½ tspTabasco Sauce

1 tsp Salt

1 tsp Pepper
1. Preheat oven to 425 degrees.
2. Husk Corn and coat in Blended Oil, Salt, and Pepper.
3. Cook for approximately 15 min.
4. Let Corn cool and cut kernels from cob.
5. Remove seeds from Jalapeno Peppers.
6. Small dice Red Bell Pepper, Red Onion, and Jalapeno Pepper.
7. Chop Garlic and Fresh Chives.
8. Combine all ingredients in a bowl and mix.
CRAB CAKES
Ingredients:
½ cup to ¾ cup Crab Cake Mix

¼ cup Cracker Meal

1 tbsp Parsley

1 pound Jumbo Lump Crabmeat

¼ cup Roasted Red Peppers, Diced
Crab Cake Mix
1 egg

1 cup Mayonnaise

1 tbsp Yellow Mustard

1 tsp Worcestershire Sauce

¼ tsp Old Bay

1 pinch Kosher Salt

1 dash Tabasco Sauce
1. Preheat oven to 350 degrees.
2. Combine Egg, Mayonnaise, Yellow Mustard, Worcestershire Sauce, Old Bay, Kosher Salt & Tabasco Sauce in a bowl and mix well to make Crab Cake Mix.
3. Place Crabmeat, diced Red Peppers, Parsley, and Crab Cake Mix in a bowl, mixing gently.
4. Add Cracker Meal and continue to gently mix.
5. Portion into 3-ounce balls.
6. Place Crab Balls on a nonstick baking sheet and bake for 20-25 min.
FRIED GREEN TOMATOES
Ingredients:
Green Tomatoes

2 ½ tsp Honey

½ cup Buttermilk

Canola Oil
Fried Green Tomatoes Breading
1 cup Flour

1 cup Cornmeal

1 tbsp Cajun Spice

1 cup Sugar
1. Combine Flour, Cornmeal, Cajun Spice & Sugar in a bowl & mix well to make Breading.
2. Slice Green Tomatoes about a quarter inch thick & place in a large bowl.
3. In a separate bowl, mix Honey and Buttermilk together, then pour over Green Tomatoes. Gently toss to coat.
4. Place each Green Tomato Slice in the Breading, and coat both sides.
5. Prepare a nonstick skillet with canola oil for frying.
6. Place Green Tomatoes in nonstick skillet and flip tomatoes after about 2 min. Fry until golden brown.