Blog
Growing up, Miss Shirley's Corporate Executive Chef Brigitte spent the majority of her time by the ocean, which is how her love of seafood developed. Brigitte's grandparents used to own a hotel called The Fairfax down in Ocean City, and she would visit every summer. Brigitte would head out to the beach at 7 a.m. and soak up the sun all day!
"Nowadays, I spend my free time gardening, or on my porch reading and watching the hummingbirds make their way towards the bird feeders I have scattered across my yard."
But, Brigitte's favorite thing about summer has got to be the fresh seafood options, like Soft Shell Crabs! She love stuffing Soft Shells with Crab Cakes, lightly flouring them with a little Old Bay, and pan-frying them in butter! "It's definitely my go-to summer dish, at home," says Brigitte.
But at Miss Shirley's, her favorite Soft Shell dish is definitely the Soft Shell Crab & Succotash Eggs Benedict! It features local Logan's Sausage Company's Chesapeake Chicken Sausage and Black Eyed Pea Succotash on a Jumbo English Muffin with Old Bay Holandaise Sauce.
That's why Chef Brigitte wanted to share her favorite dish with YOU! Check out the Recipe below!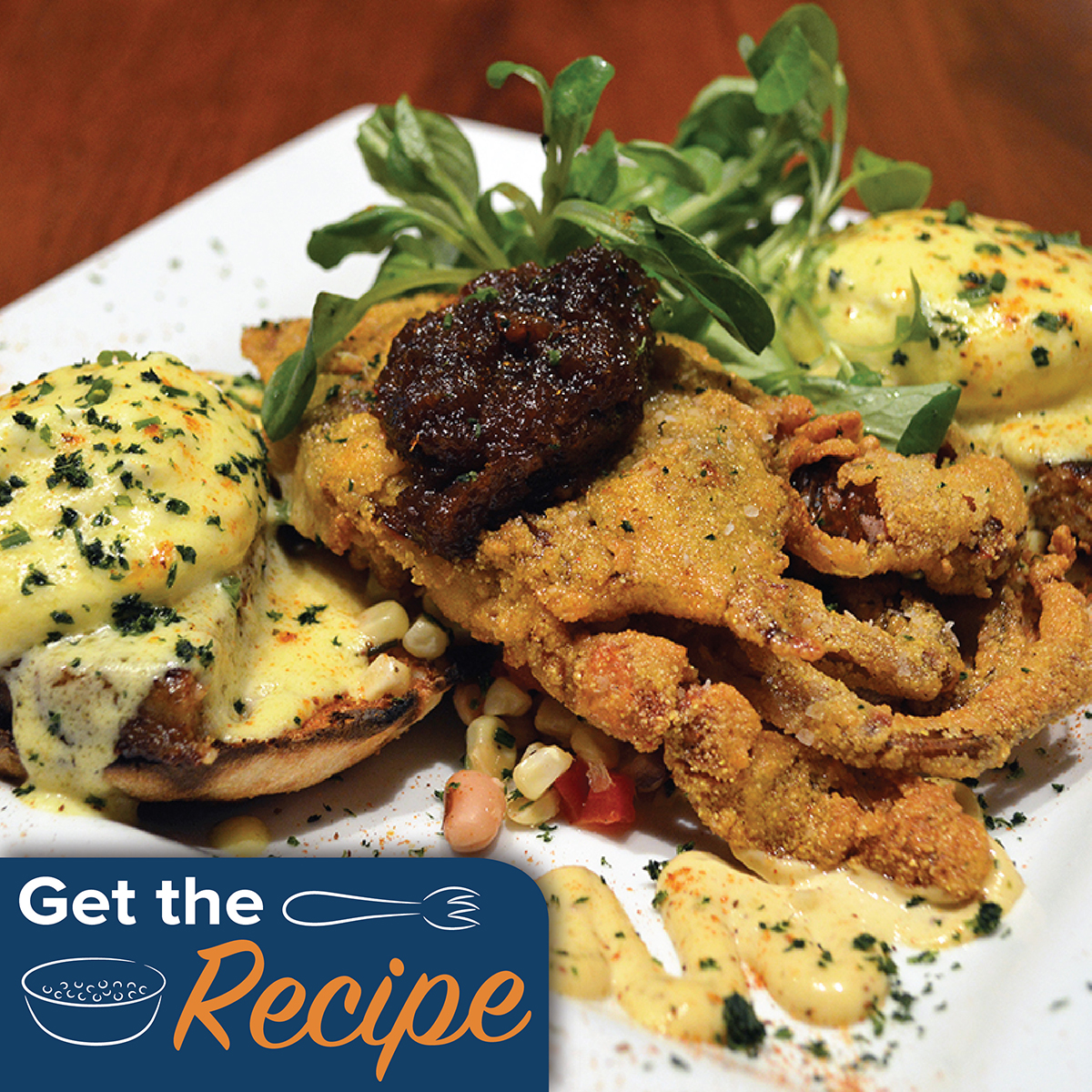 Soft Shell Crab & Succotash Eggs Benedict Recipe
Yields: 6 servings
INGREDIENTS:
6 each Cornmeal Breaded & Fried Soft Shell Crabs

6 each Jumbo English Muffins, halved

12 each Large Brown Eggs

6 each Sausage Patties

3 cups of Black Eyed Pea Succotash

12 ounces Hollandaise Sauce

6 ounces Old Bay Remoulade

6 ounces Chow Chow

6 ounces Tabasco Bacon Onion Jam, room temperature

6 small bunches of Mache Lettuce

Old Bay to garnish

Water & White Wine Vinegar to poach Eggs
PREPARATION:
- Cook Sausage Patties in pan or oven until golden brown and cooked through. Cut each patty in half and set aside.
- Toast English Muffins and also set aside.
- Poach each Egg in simmering Water & White Wine Vinegar, and place on plate to the side.
PLATING THE DISH:
1. On a large plate, place each half of one English Muffin in opposite corners.
2. Place half of a Sausage Patty on each half of English Muffin.
3. Place 1 Poached Egg on each half of the English Muffin, on top of the Sausage Patties.
4. In center of plate, place half of a cup of Succotash Salad.
5. Place 1 each fried Soft Shell Crab on top of Succotash Salad.
6. Place a dollop of Old Bay Remoulade on top of fried Soft Shell Crab.
7. On 2 remaining opposite corners from the English muffin place 1 teaspoonful of Chow Chow opposite the other corner with 1 teaspoonful of Tabasco Bacon Onion Jam.
8. Spoon Hollandaise Sauce on top of each Poached Egg.
9. Garnish with small bunch of Mache Lettuce in center of plate and sprinkle dish lightly with Old Bay.
10. Repeat this for all six plates. Serve hot.
Tabasco Bacon Onion Jam
Yields: 6-8 servings, Active Time: 20 minutes, Total Time: 2 and ½ hours
INGREDIENTS
16 slices of Applewood-Smoked Bacon, raw

2 teaspoons Olive Oil

1 each small Sweet Onion, julienned

2 teaspoons Garlic, chopped

2 tablespoons Brown Sugar

3/4 cup brewed Coffee

3 tablespoons Maple Syrup

3 tablespoons Apple Cider Vinegar

1 teaspoon Tabasco Sauce

1/4 teaspoon ground Black Pepper
1. Pre heat oven to 375 degrees F.
2. Chop cold, raw Applewood-Smoked Bacon and spread evenly on a sheet tray.
3. Place into a preheated oven and bake for 5-10 minutes, checking often. You want the Bacon to be dark and crispy, but not burnt. Once finished, remove tray from oven and set to the side.
4. In a large pot, over medium to high heat, add Olive Oil.
5. Add julienned Onions into pot and stir occasionally. You want to brown the Onions until they are soft, but not burnt. About 4-5 minutes.
6. Add in the Garlic, stir and cook for another minute.
7. Add the remaining ingredients to the pot, including the cooked Bacon and all of the bacon grease!
8. Stir in Brown Sugar, Coffee, Maple Syrup, Apple Cider Vinegar, Tabasco Sauce & Black Pepper until mixed well.
9. Simmer over medium/low heat for about 2 hours until reduced, dark in color and all ingredients are soft. Stir occasionally, so as not burn or stick to the bottom. (If it appears too dry up you may add about a 1/4 cup of water if necessary)
10. Remove pot from heat and let come to room temperature.
11. Once cooled, place into a food processor and blend until no large lumps are visible. About 1-2 minutes.
12. Place finished Tabasco Bacon Onion Jam into a squeeze bottle to use. Store in refrigerator, when not using.
Black Eyed Pea Succotash Salad
Yields: 6 servings
INGREDIENTS
1 large can of Black Eyed Peas (about 20 ounces), drained

2 cups Roasted White Corn

½ each Red Onion, diced small

½ cup Roasted Red Peppers, drained and diced small

1 teaspoon fresh Garlic, chopped

1 tablespoon fresh Chives, chopped

¼ cup Olive Oil

1/8 cup Red Wine Vinegar

1/8 cup fresh Lemon Juice

1 teaspoon Kosher Salt

¼ teaspoon Black Pepper
1. In a medium bowl, gently mix Black Eyed Peas, Roasted White Corn, Red Onion, Roasted Red Peppers and Chives together.
2. In a small bowl, mix Garlic, Olive Oil, Red Wine Vinegar, Lemon Juice, Salt and Pepper together for dressing.
3. Pour dressing over top of salad and gently toss to coat.
4. Store covered and refrigerated until needed. Will keep for up to 5 days.
Chow Chow
Yields: 1 pint
INGREDIENTS
1 each large Green Tomato

½ each Red Pepper

½ each Yellow Pepper

¼ each Vidalia Onion

¼ each fresh Jalapeño Pepper

1 cup Apple Cider Vinegar

1/3 cup Water

¾ cup Sugar

1 tablespoon Kosher Salt
1. In a medium pot, place Apple Cider Vinegar, chopped Jalapeño Pepper and Water. Bring to a boil.
2. Remove from heat and stir in Kosher Salt and Sugar, until dissolved.
3. In a food processor, roughly chop the Tomato, Peppers and Onion.
4. Place mixture in a heat safe plastic container.
5. Pour hot liquid over vegetables and stir to mix.
6. Let sit out uncovered for about 2 hours and then refrigerate.
7. Once completely cooled, cover and store in refrigerator for up to 2 weeks.
Old Bay Remoulade
Yields: 2 cups
INGREDIENTS
2 cups Mayonnaise

2 tablespoons fresh Lemon Juice

½ teaspoon Tabasco Sauce

1 teaspoon Old Bay

1/8 teaspoon Paprika

¼ cup Capers, drained and chopped
1. In a medium bowl, whisk together Mayonnaise, Lemon Juice and Tabasco Sauce, until smooth.
2. Add in Old Bay and Paprika, until well incorporated.
3. Stir in Capers and place sauce in a container. Cover and store in refrigerator for up to 5-7 days.
Hollandaise Sauce
Yields: 4-6 servings
INGREDIENTS
6 Egg Yolk

2 tablespoons Hot Water

Sea Salt

2 tablespoons fresh Lemon Juice

8 tablespoons Unsalted Butter, melted

Pinch of Cayenne Pepper or Black Pepper
1. In a medium pot, about half full of Water, bring to a simmer.
2. Use a small metal bowl that fits on top of pot, without falling in. Add all ingredients into metal bowl, except for Butter, Salt and Pepper.
3. Whisk together in bowl, until lightened in color and slightly thickened. About 2-3 minutes.
4. Place bowl over simmering pot, to create double boiler.
5. Whisking constantly, slowly drizzle in the melted Butter.
6. Whisk until sauce thickens, taking care not to cook the Eggs.
7. If sauce becomes too thick, add more water. If it becomes too thin, add more melted Butter.
8. Remove from heat and sauce will thicken as it cools.
9. Season to taste with Salt and your choice of Pepper.
10. Serve immediately.
Cornmeal Breading
INGREDIENTS
2 cups Yellow Cornmeal

1 cup All Purpose Flour

½ cup Sugar

2 tablespoons of Cajun Seasoning
1. In a bowl, mix ingredients.
2. Cover and set to the side, until needed.
3. Will keep tightly sealed for up to 5 days.
Fried Soft Shell Crab
INGREDIENTS
6 each fresh Whale Soft Shell Crabs – cleaned

1 cup Buttermilk

About 4 cups of Cornmeal Breading

Oil for frying (corn or canola)

Kosher Salt and Pepper to taste
1. Pat cleaned Soft Shell Crabs dry, with a paper towel.
2. Heat Oil in a large pot, to about 325 degrees.
3. Dip Soft Shell Crabs in Buttermilk, then coat well in Cornmeal Breading and set on a plate to the side.
4. Once Oil is hot, re-coat the Soft Shell Crabs in Cornmeal Breading and then place gently in Oil to fry, one at a time.
5. Flip Soft Shell once, if not completely submerged. NOTE: Soft Shells can pop, as they contain a lot of moisture.
6. Each Soft Shell Crab should take about 2-3 minutes on both sides.
7. When golden brown and cooked through, remove Soft Shells from heat and place on paper towels to drain grease.
8. Sprinkle each Soft Shell with Salt and Pepper, to taste.