Blog
Looking for the perfect dish to impress your Holiday guests? You're in luck!

Corporate Executive Chef Brigitte Bledsoe is giving YOU her Recipe for our Shirley's Affair with Oscar - awarded Best Breakfast Dish in Maryland by Food Network Magazine!

This Award Wining combination of Stone Ground Grits with Diced Bacon, Fried Green Tomatoes, Jumbo Lump Crab Meat, Roasted Asparagus and Beef Tenderloin Center Cut Filet is sure to "Wow" your family & friends this season!
Check out the full Recipe below!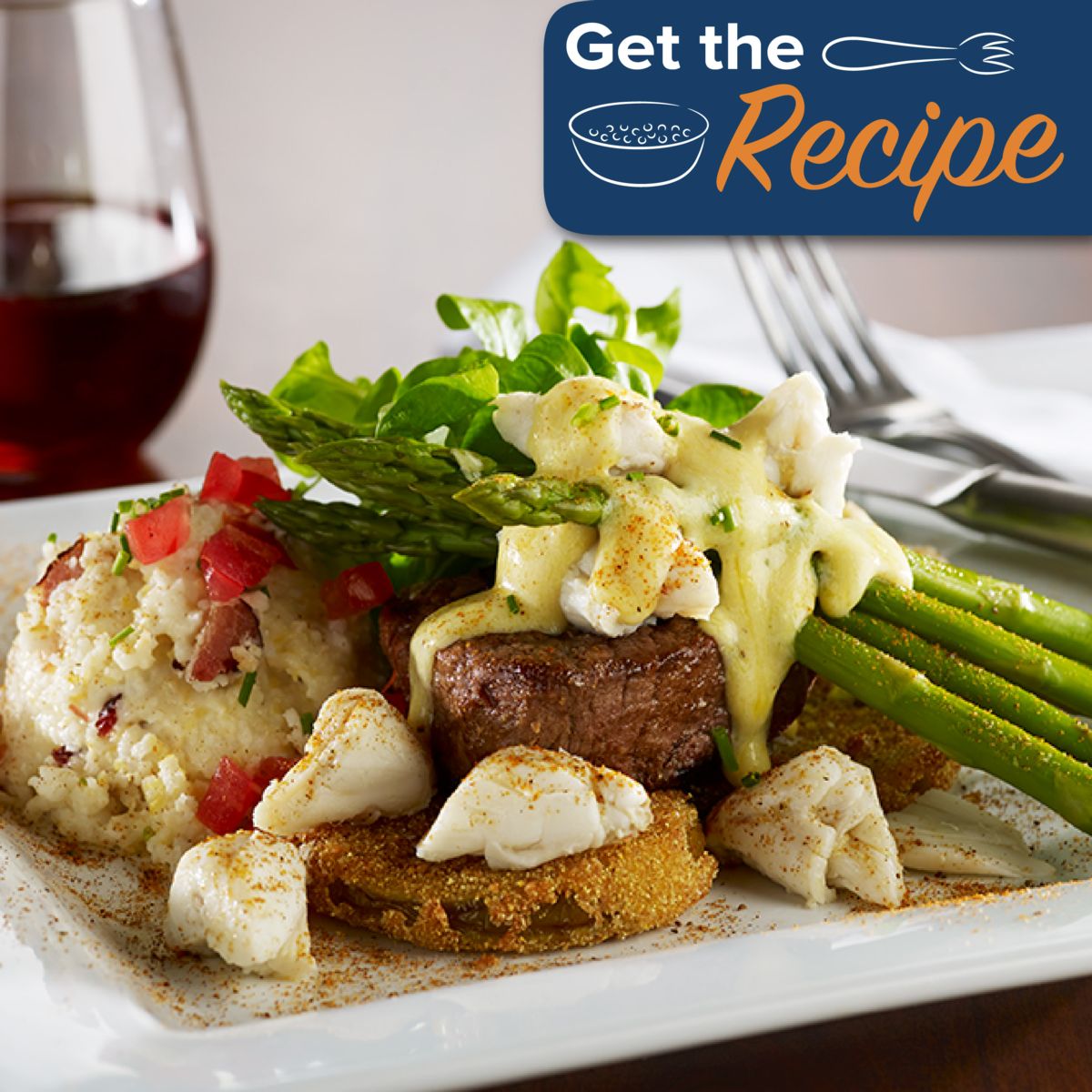 Shirley's Affair With Oscar
Recipe courtesy of Brigitte Bledsoe
STEP 1: FRIED GREEN TOMATOES (Yields 3-4 servings)
1 cup Flour

1 cup Cornmeal

1 tablespoon Cajun Spice

1 cup Sugar

4 Green Tomatoes

2 ½ teaspoon Honey

½ cup Buttermilk

Fried Green Tomato Breading
1. Combine first 4 ingredients in a bowl & mix to make breading. Set aside.
2. Slice Green Tomatoes about a quarter inch thick.
3. Place Green Tomatoes in large bowl.
4. Mix Honey and Buttermilk together and pour over Green Tomatoes. Gently toss to coat.
5. Place Green Tomatoes in Breading, one at a time to coat both sides.
6. If you do not have a home fryer, prepare nonstick skillet with canola oil.
7. Place Green Tomatoes in nonstick skillet and flip tomatoes after about 2 min. Fry until golden brown.
STEP 2: STONE GROUND GRITS WITH DICED BACON (Yields 6-8 4 oz. portions)
½ cup Diced Uncooked Bacon

¾ cup Whole Milk

¾ cup Heavy Cream

1 ¼ cup Water

¾ cup Stone Ground Grits

2 tbsp. Mascarpone Cheese

Salt and Pepper to taste
1. In a large pot over medium/high heat, sauté the chopped Bacon. Stir frequently to brown bacon, but be careful not to burn it.
2. Add Milk, Cream & Water into pot.
3. Bring to a simmer and stir in the Stone Ground Grits, using a wire whisk. Continue to stir until there are no lumps.
4. Lower heat and continue to stir frequently so that no lumps form and the bottom does not burn.
5. Season with Salt and Pepper, and let simmer for 20-25 minutes, stirring occasionally.
6. If grits become too thick before being fully cooked, add more water as necessary. Once grits are fully cooked, remove pot from heat. Whisk in Mascarpone and season to taste with Salt and Pepper, if needed.
STEP 3: OLD BAY HOLLANDAISE SAUCE
4 Egg Yolks

4 tbsp. Butter

2 tbsp. Fresh Lemon Juice

1 pinch Old Bay

1 pinch Salt

1 pinch Pepper
1. Melt Butter in small saucepan.
2. Beat together Egg Yolks, Lemon Juice, Salt, Pepper & Old Bay in a medium-sized bowl.
3. Add 1 tsp. of melted Butter to Egg mixture and beat with a whisk. Continue adding melted Butter to the Egg mixture slowly until done – whisking continuously.
4. Add Egg mixture to saucepan.
5. Turn heat to low and quickly cook Egg mixture – no more than 15 seconds, still whisking until desired thickness is reached.
STEP 4: SHIRLEY'S AFFAIR WITH OSCAR (Yields 4 servings)
4 5 oz. Beef Tenderloin Center Cut Filets

Olive Oil

Salt & Pepper

1 tsp. Butter

1 bunch Asparagus

Fried Green Tomatoes

Stone Ground Grits with Diced Bacon

8 oz. Jumbo Lump Crab Meat

Old Bay Hollandaise Sauce

½ cup Diced Tomatoes

Fresh Chives & Mache for garnish
1. Gently rub Filets with Olive Oil, Salt and Pepper. Cook to desired temperature.
2. On a sheet pan, lay out Asparagus and season with Salt and Pepper. Roast in oven at 400 degrees for 10-12 minutes.
3. In a small pan, melt Butter & sauté Jumbo Lump Crab Meat for 3-5 minutes.
4. Place one scoop of Stone Ground Grits onto each plate.
5. Place 2 Fried Green Tomato slices on each plate, on either side of the Grits.
6. Place a 5 oz. Filet on each plate, on top of the Fried Green Tomatoes.
7. On each plate, lean 4-5 Asparagus stalks on the Filet, facing the Grits.
8. Place 2 oz. Jumbo Lump Crab Meat on top of the Filet, on each plate.
9. Garnish each plate with Diced Tomatoes, Chives, Old Bay Hollandaise & Mache.