Blog
Few things scream Southern cooking quite like Gumbo! Transform your kitchen into an authentic New Orleans restaurant with Miss Shirley's much-loved Signature Gumbo.
This creole classic features Andouille Sausage, Chicken, Shrimp, Crawfish Meat, Okra & Tomatoes, served with Stone Ground Grits with Diced Bacon, and dusted with Cajun Spice!
Check out Corporate Executive Chef Brigitte's Full Recipe below, and don't forget to follow Miss Shirley's on Pinterest for more of our delicious Southern-Inspired Recipes!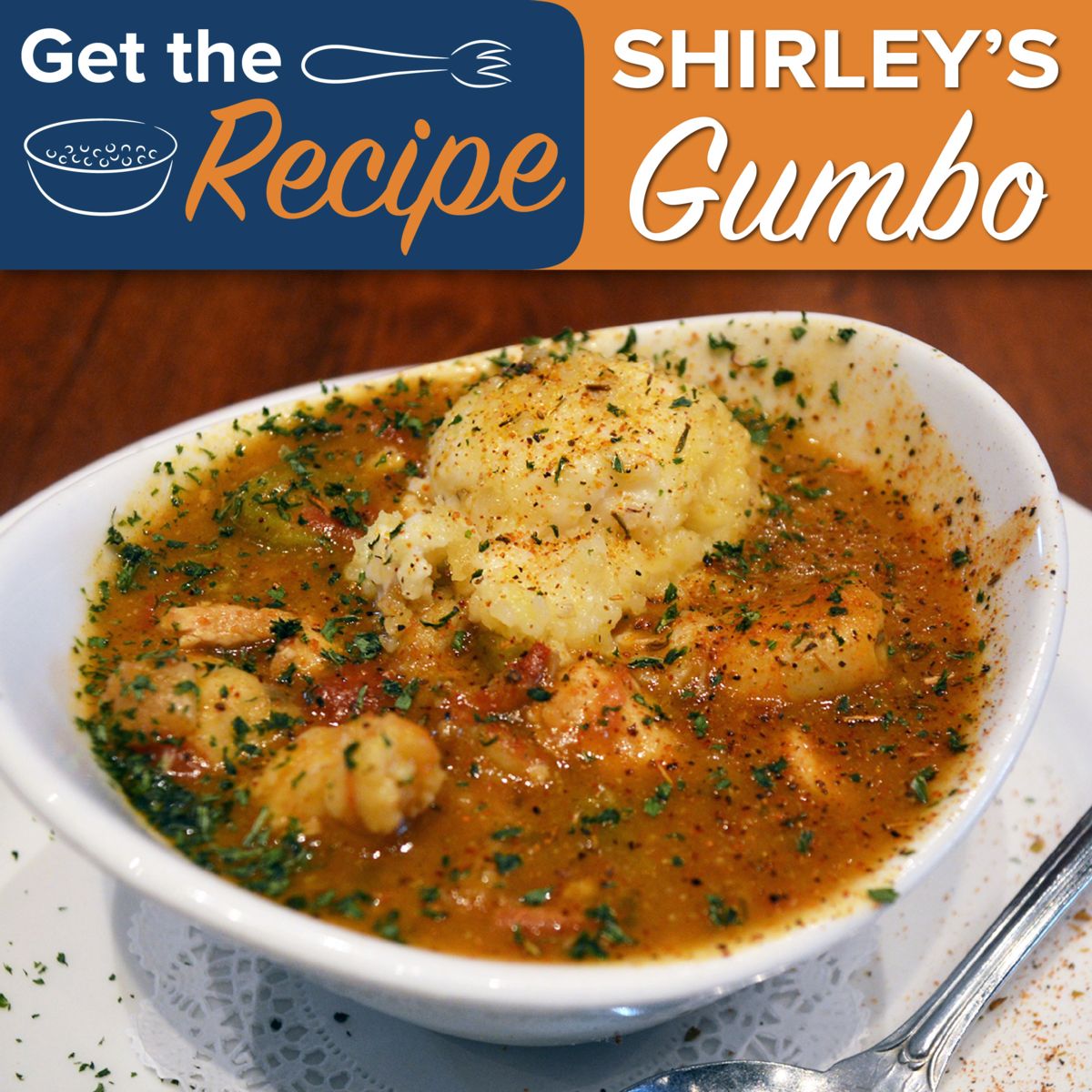 Miss Shirley's Gumbo
Yields: 6-8 servings
STEP 1: GUMBO
8 oz. Boneless Skinless Chicken Breast, diced

8 oz. Cooked Large Shrimp, diced

8 oz. Cooked Crawfish Meat

8 oz. Andouille Sausage, diced small

2 stalks Celery, diced small

½ Red Bell Pepper, diced small

½ Yellow Bell Pepper, diced small

1 cup Okra, diced small

1 can (28 oz.) Diced Tomato

½ Spanish Onion, diced small

 2 tbsp. Gumbo Filé

½ tsp. Fresh Thyme, chopped

1 tsp. Parsley, chopped

1 tsp. Garlic, chopped

4 oz. Butter

½ cup Flour

1 tsp. Shrimp Base

1 tsp. Chicken Base

2 tbsp. Tomato Paste

1 tbsp. Worcestershire Sauce

¼ cup Pinot Grigio Wine

½ tsp. Tabasco Sauce

¼ tsp. Black Pepper

1 cup Clam Juice

1 tsp. Lemon Juice

Cajun Spice
1. Dice Andouille Sausage & Chicken.
2. Sauté in a large pot with 1 oz. of Butter.
3. Stir in Gumbo file, Thyme & Garlic.
4. When Chicken is cooked (about 10 minutes), add in Celery & Onion. Stir and cook about 5 minutes.
5. Add in Red Peppers, Yellow Peppers & Tomato Paste.
6. Stir in White Wine, Lemon Juice & Worcestershire Sauce and cook for 5 minutes.
7. Add Diced Tomato, Shrimp Base, Chicken Base, Clam Juice & 2 cups of water.
8. Bring to a boil and add Okra & Tabasco Sauce.
9. In a small pot, melt 3 oz. Butter & whisk in Flour.
10. Cook mixture over low heat, stirring constantly to form a dark roux.
11. With Gumbo at a simmer, slowly whisk in roux.
12. Let simmer for 10-15 minutes.
13. Add in Cooked Shrimp & Cooked Crawfish, and stir until heated.
14. Serve hot, topped with Grits & dusted with Cajun Spice!
STEP 2: STONE GROUND GRITS WITH DICED BACON (Yields 6-8 4 oz. portions)
½ cup Diced Uncooked Bacon

¾ cup Whole Milk

¾ cup Heavy Cream

1 ¼ cup Water

¾ cup Stone Ground Grits

2 tbsp. Mascarpone Cheese

Salt and Pepper to taste
1. In a large pot over medium/high heat, sauté the chopped Bacon. Stir frequently to brown bacon, but be careful not to burn it.
2. Add Milk, Cream & Water into pot.
3. Bring to a simmer and stir in the Stone Ground Grits, using a wire whisk. Continue to stir until there are no lumps.
4. Lower heat and continue to stir frequently so that no lumps form and the bottom does not burn.
5. Season with Salt and Pepper, and let simmer for 20-25 minutes, stirring occasionally.
6. If grits become too thick before being fully cooked, add more water as necessary. Once grits are fully cooked, remove pot from heat.
7. Whisk in Mascarpone and season to taste with Salt and Pepper, if needed.
8. Top Miss Shirley's Gumbo with a 2 oz. scoop of finished grits