Blog
Celebrate longer, lighter days with fresh new recipes like our Summer Quinoa Salad, featuring beautiful & delicious Watermelon Radishes, as well as Cucumber, Tomato & Quinoa!

This healthy side salad is quick, easy & sure to be a crowd pleaser at your next backyard bash or holiday cookout.

Check out Corporate Executive Chef Brigitte's full recipe below, and don't forget to follow Miss Shirley's on Pinterest for more tasty tips!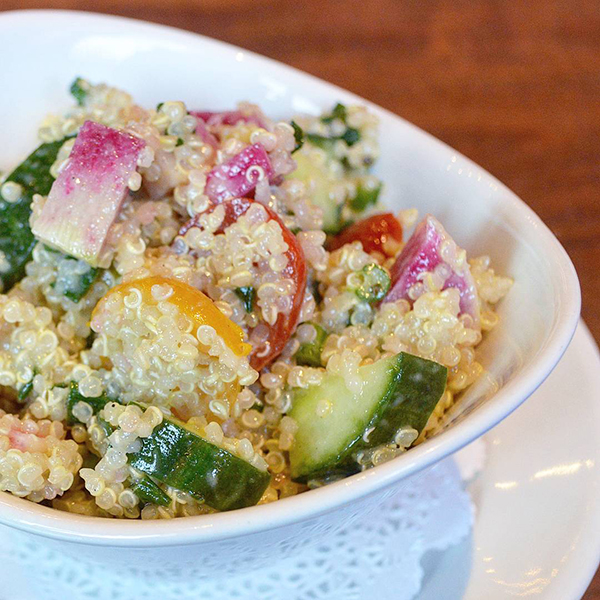 SUMMER QUINOA SALAD (Yields: 4-6 servings)
Miss Shirley's Cafe
LEMON VINAIGRETTE INGREDIENTS:
½ cup fresh squeezed Lemon Juice

1 teaspoon Garlic, chopped

½ teaspoon Dijon Mustard

1 tablespoon Honey

1 Lemon, zested

¾ cup Olive Oil

1 tablespoon Chives, chopped

Salt and Pepper to taste
SALAD INGREDIENTS:
1 cup Quinoa, uncooked

½ Seedless Cucumber, diced small

½ cup Red Grape Tomatoes, halved

½ cup Yellow Grape Tomatoes, halved

½ bunch Green Onion, chopped

2 small Watermelon Radishes, peeled and diced

1 Lemon

½ cup Lemon Vinaigrette

Salt and Pepper to taste
1. In a blender, blend together Lemon Juice, Garlic, Dijon Mustard, Honey, Lemon Zest, Salt & Pepper.
2. With blender on low speed, slowly drizzle in Olive Oil until well blended.
3. Stir in Chives. Taste and adjust seasoning, if needed. Store vinaigrette in refrigerator to chill.
4. Cook Quinoa according to the label. Put Quinoa in a large bowl, let cool and fluff.
5. Add diced Cucumber, halved Grape Tomatoes, chopped Green Onion & diced Watermelon Radish.
6. Zest 1 Lemon into the bowl.
7. Add chilled Lemon Vinaigrette and gently mix.
8. Season with Salt & Pepper to taste.