Blog
We've all heard that eating a healthy & nutritious breakfast has been linked to enhanced work performance, better test grades for school kids & reduced hunger throughout the day. And with schools back in session and summer coming to a close, it's no surprise that September is recognized as Better Breakfast Month – a perfect opportunity to reflect on our breakfast eating habits.
But, creating a healthy breakfast doesn't have to be an elaborate ordeal. Incorporating a few key elements such as fruits, veggies, grains & protein can make a world of difference in starting your day off on the right foot!
So, to kick start Better Breakfast Month, we're giving you our quick & easy recipe for Miss Shirley's Healthy 'Hot Mess' Scramble!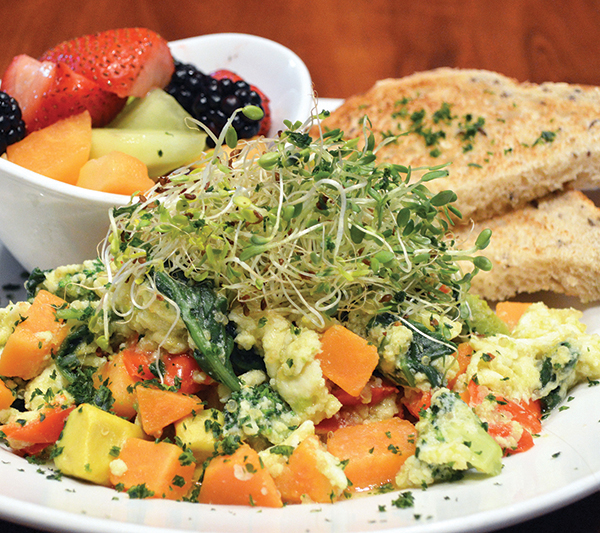 HEALTHY 'HOT MESS' SCRAMBLE (Yields: 4 servings)
Miss Shirley's Cafe
INGREDIENTS:
16 oz. Egg Whites

½ c cooked Spinach

½ c cooked, chopped Broccoli

½ c cooked, diced Sweet Potato

¼ c chopped Peppadews

¼ c Quinoa

1 oz. Alfalfa Sprouts

1 each Avocado, mashed

2 tbsp. Olive Oil
1. On stovetop, heat Olive Oil in a large skillet over medium heat.
2. Add Spinach, Broccoli, Peppadews & Sweet Potato to warm, about 1-2 minutes.
3. Add in cooked Quinoa & stir.
4. Add in Egg Whites & continue to stir until Egg Whites are cooked through
5. Portion onto 4 plates & top each with mashed Avocado & Sprouts
6. Add Salt & Pepper to taste, if needed.