Blog
With fresh local produce in abundance, there's no question as to why May is National Salad Month! And with the weather finally warming up, it's the perfect time to give your oven a rest and enjoy a lighter meal. Salads can serve as quick & delicious starters, sides or easy weekday lunches & dinners.
But with so many possible combinations, how do you create an unbeatable combination atop tasty greens? We talked to our Executive Chefs to get the scoop on their Top Tips & Favorite Salad Creations!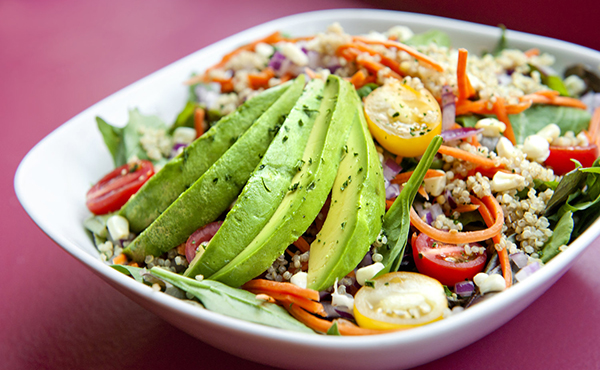 A Salad To Call Your Own with 5 Ingredients of Guest's Choice
Creating the Perfect Summer Salad
1. Boost the nutrition of your salad by mixing in dark, leafy greens- Spinach, Kale & Arugula make great salad bases.
2. Throw in your favorite Summer veggies – think Grape Tomatoes, colorful Bell Peppers, Yellow Corn, crisp Cucumbers, Summer Squash & sliced Avocado! Try combinations of raw, grilled, roasted or pickled veggies for different texture & flavors!
3. Think about adding something sweet & fruity! Yummy Summer fruits include Pineapple, Peaches, Mango, Watermelon, Kiwi, Strawberries, Blackberries & Blueberries – add them fresh or dried for a sweet spin on your salad.
4. Keep it creamy by adding fresh Cheeses like Goat Cheese, Feta, Mozzarella, Cheddar & Parmesan.
5. Add some crunch– Watermelon Radish, Carrots, Celery, crispy Bacon bits, fresh-baked Croutons, toasted Nuts & Seeds all make great salad additions!
6. Pump it up with some protein– try Grilled Chicken, Steak, Shrimp, Salmon, Soft Shell or Crab Cake. For a vegetarian version, add protein-packed beans & legumes like Black-Eyed Peas, Soybeans, Chickpeas, Black Beans & Lentils, or top your salad with grilled Tofu.
7. Mix up a light & fresh homemade vinaigrette using Oils, Vinegars, Fresh Juice, Herbs & Spices – check out our Chefs' favorite combos below!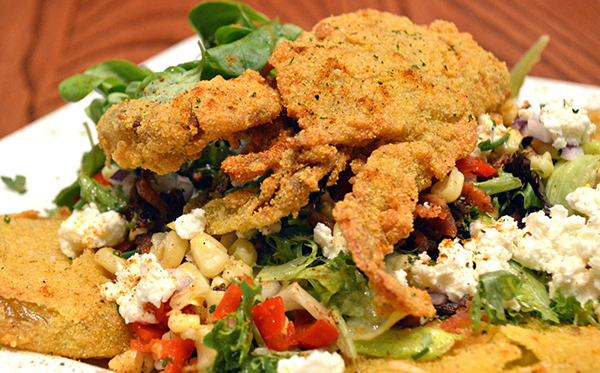 Born on the Bay-O Salad
Executive Chef Zuri, Roland Park
What are your favorite salad ingredients? My favorite salad combination has got to be a traditional Greek Salad with Olives, Feta, Fresh Tomato & Cucumber.
What is your go-to dressing? I love whipping up a quick Lemon Vinaigrette with Fresh Lemon Juice, Dijon Mustard, Olive Oil, White Vinegar and a little Salt & Pepper.
What is your favorite protein to top your salads? Grilled or Blackened Chicken is probably my go-to for salads.
Executive Chef Eric, Inner Harbor
What are your favorite salad ingredients? I like to add Roasted Corn, Avocado, Grape Tomatoes & Applewood-Smoked Bacon pieces to add a salty crunch.
What is your go-to dressing? My go-to is a simple vinaigrette with Olive Oil, Lemon Juice, Champagne Vinegar & fresh Herbs like Tarragon, Chives & Basil.
What is your favorite protein to top your salads? Blackened Shrimp adds great flavor.
Executive Chef Ubences, Annapolis
What are your favorite salad ingredients? My go-to salad is a combination of Avocado, Grape Tomatoes, Applewood-Smoked Bacon, Bleu Cheese & Homemade Croutons.
What is your go-to dressing? I like Shirley's Smoked Tomato Vinaigrette – it's a mix of Creamy Tomato, White Wine Vinegar, Mayo, Dijon Mustard, Garlic, Parsley & Chives.
What is your favorite protein to top your salads? I love to top my salads with some Grilled Chicken.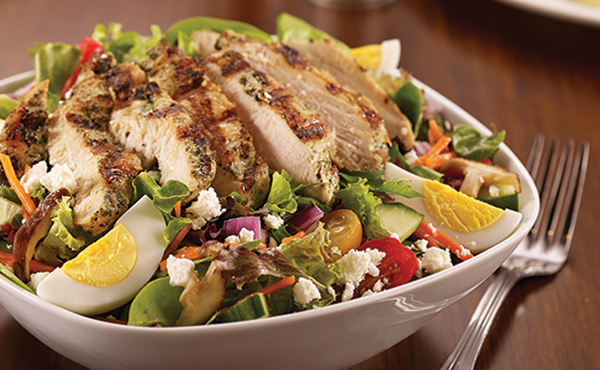 A Salad To Call Your Own topped with Grilled Chicken