Blog
At Miss Shirley's, we always say that there's nothing more important than Family, Friends & Food - which is why we are happy to be participating in National Screen-Free Week & Children's Book week, for the 2nd year in a row, April 30 - May 6!

We are encouraging our guests to unplug from the digital world & engage in warm conversations with family & friends while dining with us at any Miss Shirley's location!

To help start the conversation, we have included inserts in all of our table caddies, with Conversation Topics, interesting World Records, and Miss Shirley's Trivia.
All Miss Shirley's Cafe locations offer breakfast-themed children's books for use in the restaurant, year-round, including fun titles like "If You Give a Pig A Pancake," "Woodpecker Wants A Waffle," "Lady Pancake & Sir French Toast," and more!
And, to encourage the creativity & intellect of our little Misses and Misters, we also have a Kids Games & Puzzles Mat filled with Coloring, Riddles, Word Search, Tic-Tac-Toe, Dots Game, Decoding, Math Activities & more!
So, power down your phones this week, and reconnect over a delicious Breakfast, Brunch or Lunch with the family.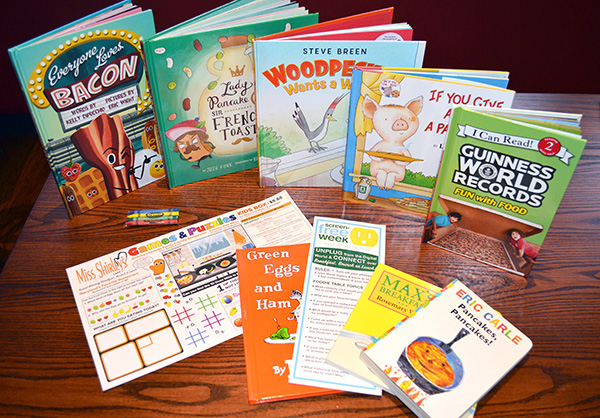 Children's Books Avaialble: "Everyone Loves Bacon" by Kelly DiPucchio, "Lady Pancake & Sir French Toast" by Josh Funk, "Woodpecker Wants A Waffle" by Steve Breen, "If You Give a Pig a Pancake" by Laura Numeroff, "Guinness World Records Fun with Foods" by Christy Webster, "Green Eggs and Ham" by Dr. Suess, "Max's Breakfast" by Rosemary Wells & "Pancakes, Pancakes!" by Eric Carle.