Blog
In July, Miss Shirley's Cafe was honored to be chosen to participate in Governor Larry Hogan's Annual Maryland Buy Local Cookout!
To highlight locally grown & harvested products, we served a fresh Yellow Tomato Gazpacho with Jumbo Lump Crab & Corn Relish- featuring local Lindy's Seafood & Bartenfelder Farms produce.
Get the recipe for this fresh Summer Soup below!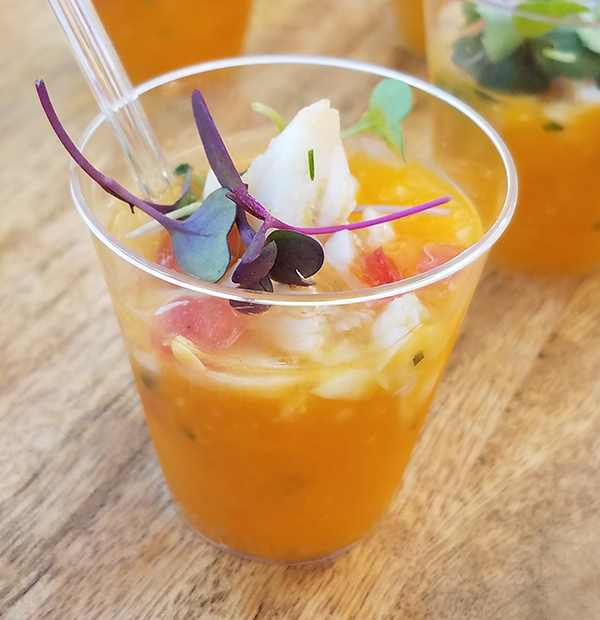 MISS SHIRLEY'S YELLOW TOMATO GAZPACHO
topped with Jumbo Lump Crab & Corn Relish
Yields: 6 - 8 portions
INGREDIENTS - GAZPACHO
5 large yellow tomatoes

1 each seedless cucumber, peeled

2 each yellow pepper

½ each jalapeno pepper, deseeded

½ each Vidalia onion

1 tablespoon chopped garlic

¼ cup white wine vinegar

¼ cup olive oil

1 tablespoon freshly squeezed lemon juice

Salt and pepper to taste

1 tablespoon fresh basil finely chopped
PREPARATION - GAZPACHO
1. Large dice, cucumber, tomato, peppers, jalapeno, onion and place in a food processor and blend with olive oil, vinegar, lemon juice and garlic.
2. If too thick add a bit of water, until proper consistency.
3. Season with salt and pepper to taste.
4. Stir in by hand the finely chopped basil and refrigerate until ready to serve.
INGREDIENTS - CRAB & CORN RELISH
8 oz fresh Maryland jumbo lump crab meat

1-2 ears of fresh Maryland white corn roasted, cut off cob (about ½ cup)

½ each Maryland red beefsteak tomato, small dice

1 tablespoon chopped fresh chives

1 tablespoon olive oil

1-2 teaspoons fresh squeezed lemon juice

Salt & Pepper to taste
PREPARATION - CRAB & CORN RELISH
1. Clean corn and rub with olive oil and season lightly with salt and pepper.
2. Place on roasting pan and place in 400-degree oven and roast for about 8-10 minutes until corn is cooked and golden brown.
3. Let cool and cut kernels from the cob.
4. In a bowl, place all ingredients and gently mix together, so as not to break up the crab meat.
5. Season to taste with salt and pepper.
6. Set aside and refrigerate until needed.
TO SERVE:
1. Ladle the chilled soup into cups and top with a scoop of crab and corn relish.
2. Sprinkle lightly with old bay.
3. Top with micro greens and serve immediately.