Blog
With an abundance of kid-friendly museums, attractions, historic treasures, shopping & more, Baltimore's Inner Harbor is an ideal spot for a fun Spring day trip with the kids!
But with all of the rich culture, cuisine & attractions to choose from, it can be tricky to pick the perfect spots for your family fun day. That's why we've come up with a list of our top Kid-Friendly experiences, all in the heart of Baltimore's Inner Harbor!
Fuel Up for Fun
No Spring experience can begin without first fueling up with a delicious meal! And as a local, family-owned restaurant, we know that there is nothing more important than family - which is why Miss Shirley's Cafe was thrilled to be named one of America's Favorite Family-Friendly Restaurants by FoodNetwork.com, as well as Favorite Kids Menu in Chesapeake Family Magazine!
With an array of Award Winning Breakfast, Brunch & Lunch options, there's bound to be something the whole family will love. While waiting for a table or food to be served, your little Misses or Misters can enjoy reading one of our many breakfast-themed children's books or creating a masterpiece on our Etch-A-Sketch toys. Miss Shirley's also offers a fun Kids Games & Puzzles Activity Mat for coloring, as well as an Interactive Games Mat for older kids, with unique & educational thinking games! Shirley's Kids Meals also come in a fun bento box with a breakfast or lunch entrée & choice of healthy sides like steamed broccoli, apple sauce, fresh fruit & yogurt!
In addition to Miss Shirley's Inner Harbor restaurant location, conveniently located on East Pratt St., just across the street from the National Aquarium; Miss Shirley's Cafe also has two more locations in Maryland – uptown in Baltimore's Roland Park neighborhood & in downtown Annapolis. MissShirleys.com/Menu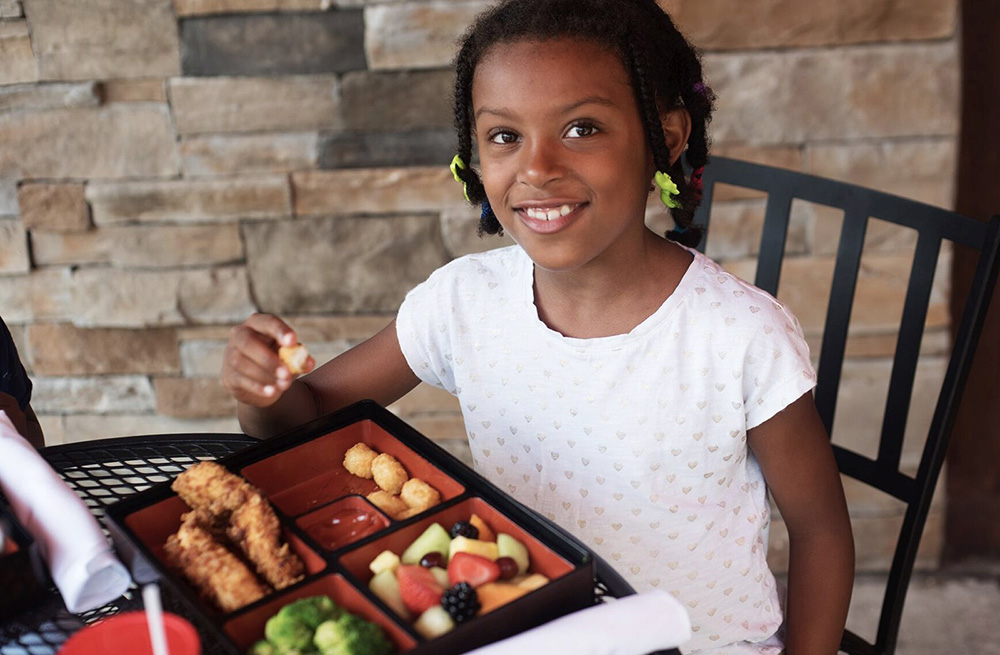 Photo courtesy of Miss Shirley's Cafe
Learn Something New
Did you know that there are 30+ museums in the city of Baltimore alone? We've narrowed down our top 5 museum experiences for kids, all within walking distance of Baltimore's Inner Harbor!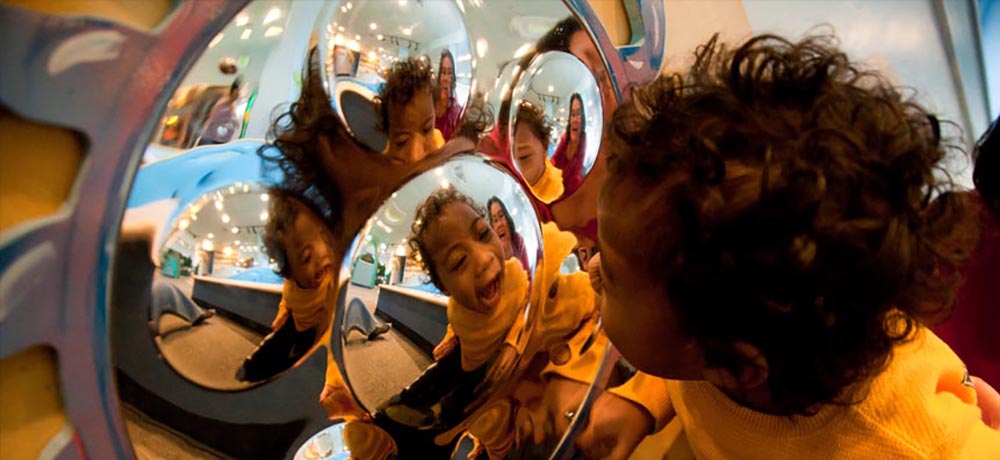 Photo courtesy of PortDiscovery.org
Discover Historic Treasures
Did you know that our nation's anthem, "The Star-Spangled Banner" was penned in Baltimore? That's right, Francis Scott Key was inspired to write this patriotic tune, while watching the bombardment of Fort McHenry in the War of 1812, when this star-shaped fort successfully defended the Baltimore Harbor from British attack. Hop on the Baltimore Water Taxi & ride the blue or purple route just a short distance away to visit this historical spot featuring real-life military enactments, guided historical tours & a special Junior Ranger badge program for kids.
Or, if you'd prefer to stay on foot, check out the Historic Ships in Baltimore, including the USS Constellation, USS Torsk, Lightship Chesapeake & USCGC Taney, which are conveniently docked right at Inner Harbor piers 1, 3 and 5! HistoricShips.org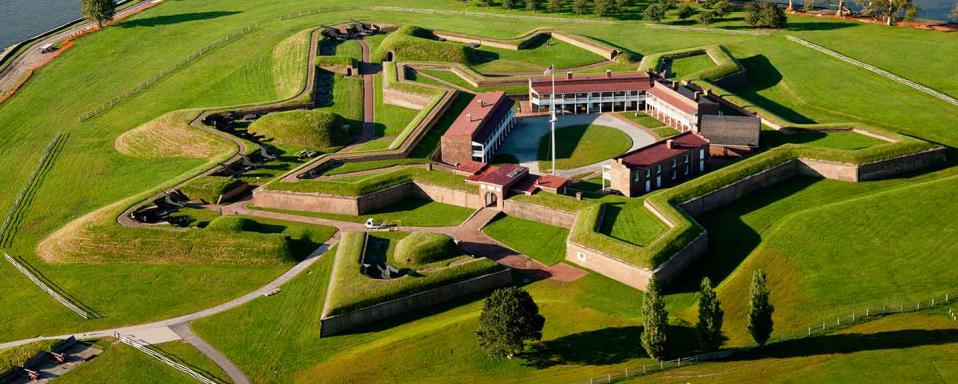 Photo courtesy of Visit Baltimore - Baltimore.org
Take Me Out To The Ball Game
There's no better place to experience America's favorite pastime with the family, than at Oriole Park at Camden Yards! Reserve a few seats and pack in the stadium snacks as you watch Baltimore's home team defend Birdland. The stadium also features a fun Kids' Corner with entertainment for younger fans, including a jungle gym, moon bounce & life-size bobbleheads.
Need more convincing? The Baltimore Orioles offer a "Kids Cheer Free" program that allows fans ages 9 & under to attend games free of charge! For each regularly-priced individual game upper deck ticket purchased, adults can add up to 2 additional free kids tickets! MLB.com/Orioles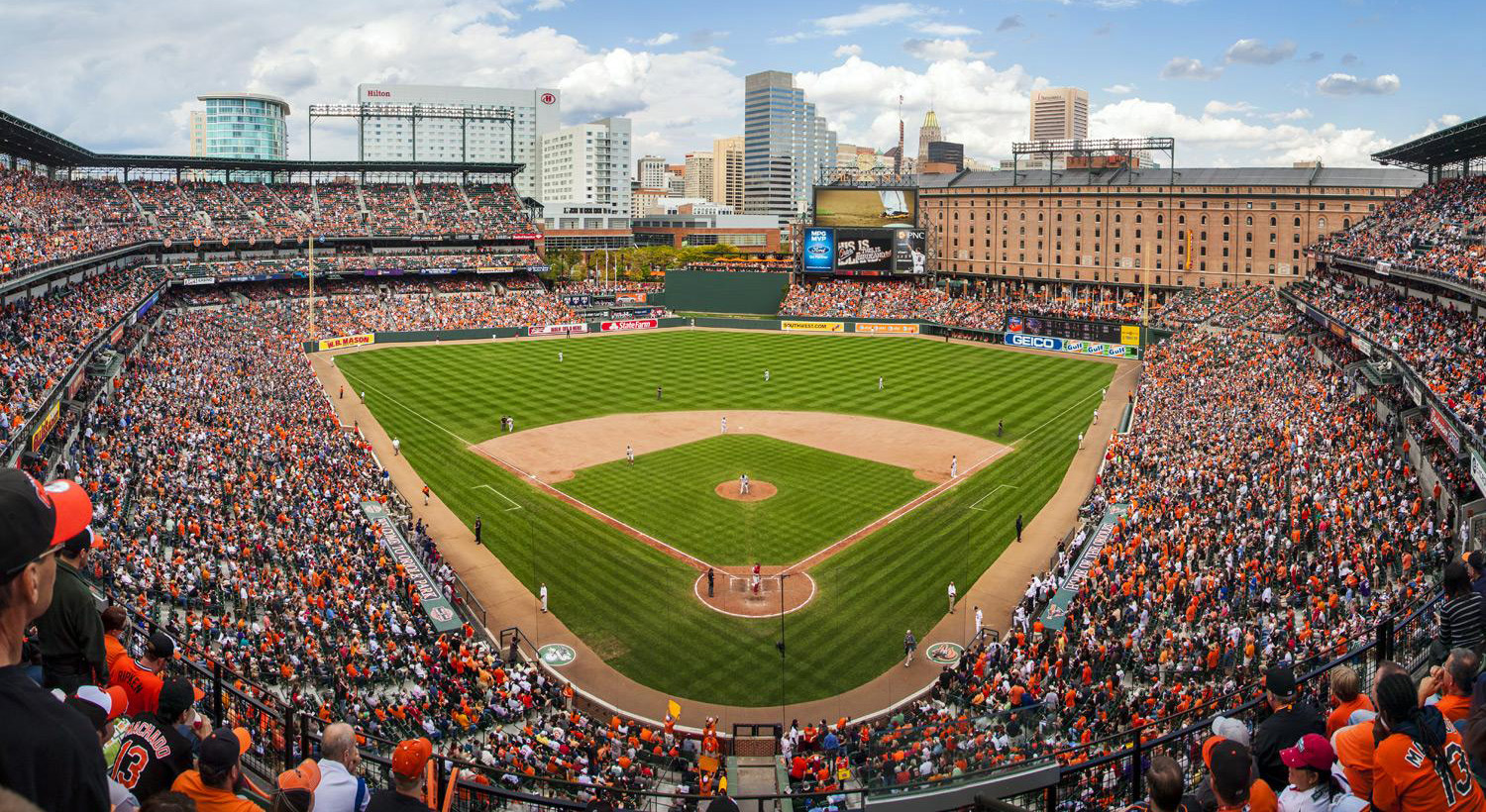 Photo courtesy of Visit Baltimore - Baltimore.org
Get Out On The Water
Scotland has it's 'Nessie,' but only in Baltimore will you find the Chesapeake Bay 'Chessie!' The kids will love taking in the view of the Harbor from a colorful four-seat dragon-shaped 'Chessie' paddle boat. Looking to spend some time out on the water, but don't feel up to paddling? Try one of the new Electric Pirate Ships, which can seat up to a family of six. BaltimorePaddleBoats.org
And, if you're up for a real pirate adventure, hop on the Water Taxi and head over to Fells Point for a fun & interactive sailing experience with Urban Pirates. The whole family will enjoy learning to talk, dance and play like a pirate, blasting enemies with water cannons & discovering vast treasures aboard the Pirate Ship Fearless. UrbanPirates.com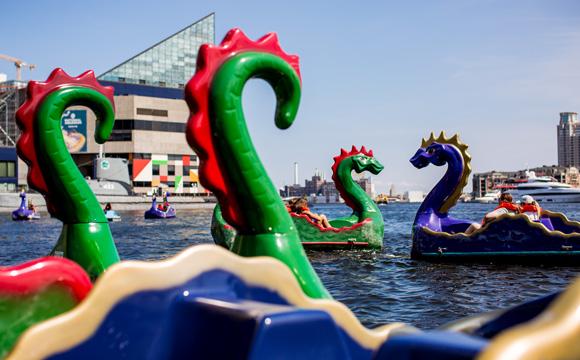 Photo courtesy of Visit Baltimore - Baltimore.org
Whether you're looking to have a fun day trip or week-long adventure, Baltimore's Inner Harbor has something for everyone to enjoy. We hope to see your family in Charm City this Spring! Also, when exploring be sure to visit like a local and share your Baltimore Family-Friendly experiences on social media using #MyBmore.
Article written by Jessica Tyree, Miss Shirley's Cafe