Blog
With the promise of cooler weather on the horizon, it's just about time to cozy up to Miss Shirley's Fall menu! So, this September, our culinary team is revamping a few Shirley's signatures & swapping out our Summer staples for all-new seasonal selections.
This season, we'll be adding some snackable new selections that are fried to perfection, like Crab Dip Fried Deviled Eggs filled with Crab, Artichoke Hearts, White Cheddar & Cream Cheese; and Loaded Potato Tots filled with White Cheddar & Sour Cream, garnished with Applewood-Smoked Bacon, Green Onion & House-Made Creamy Buttermilk Ranch.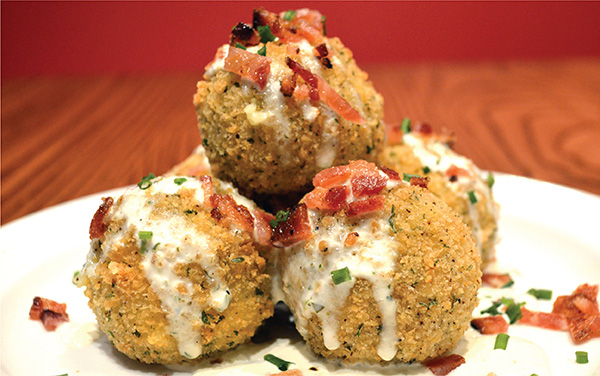 Loaded Potato Tots
And, nothing screams Fall quite like Pumpkin – which is why we're adding all-new Pumpkin Baked Mini Donuts with Maple Glaze!
Then, when you're ready for the main course, you'll be able to choose from new House Favorites such as a creamy Creole Mac & Cheese Skillet with Blackened Shrimp, Tasso Ham, Diced Tomato, Green Onion & Cavatappi Pasta in a Five Cheese Blend, dusted with Cajun Spice; or Oyster Rockefeller Eggs Benedict with Cornmeal-Encrusted Oysters, Red & Yellow Tomato, Spinach, Poached Eggs & Chesapeake Chicken Sausage Gravy on a Jumbo English Muffin, garnished with Chow Chow & Tabasco Bacon Onion Jam.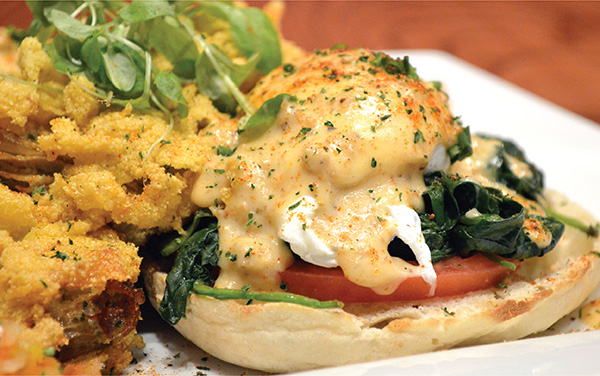 Oyster Rockefeller Eggs Benedict
But, for those trying to lighten up this season, we're also adding healthy & delicious dishes like a new Beets & Sweets Vegan Breakfast Sandwich with Black-Eyed Pea Spread, Roasted Beets, Roasted Sweet Potato Round, Avocado Mash & Beet Greens on an Everything Bagel; and an Athena Veggie Bowl packed with Greek goodness like Sautéed Farro, Roasted Red Pepper, Artichoke Hearts, Sautéed Red Onion & Kalamata Olives, tossed in an Herb Vinaigrette & topped with Sliced Avocado & Feta Cheese.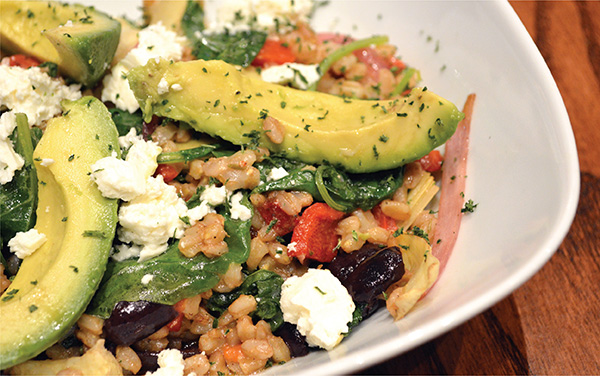 Athena Bowl
Looking for creative lunch options? We've got plenty headed your way! This coming season, put your fork into our Fall Spinach & Kale Salad with Roasted Red & Yellow Beets, Roasted Wild Mushrooms, Farro, Queso Fresco, Craisins & Sunflower Seeds, tossed in an Apple Cider Maple Vinaigrette; or warm up with new Blackened Shrimp & Jalapeño Bacon Corn Chowder.
We're also adding an array of savory sandwiches that are sure to satisfy, like the outrageous new Boom Burger made with a mix of local Roseda Farm Black Angus Ground Beef & Logan's Sausage, topped with House-Made Pulled BBQ Pork, Jalapeño-Smoked Bacon, Pimento Cheese, Tomato & Bibb Lettuce on a Sesame Seed Kaiser Roll; and a drool-worthy Grilled Cheese with Grilled Steak, Melted Pimento Cheese, Roasted Onions & Collard Greens with Tasso Ham on Sourdough! Or, if you're looking for more of a classic, you'll want to try our new Smokehouse Club or revamped Chicken "BLT" with Grilled Bourbon Glazed Chicken, Applewood-Smoked Bacon, Melted White Cheddar, Caramelized Onions, Mixed Greens, Red & Yellow Tomato on Ciabatta.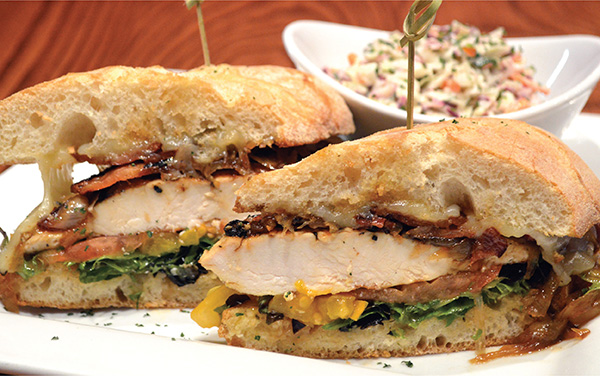 Bourbon Chicken "BLT"
Miss Shirley's Fall Menu will be debuting at all locations Wednesday, September 26th, so be sure to stop by to try our selections this season! And, follow us on Facebook, Instagram & Pinterest for photos & full descriptions of all of our new Fall Favorites, coming soon!