Blog
With Spring sunshine in full swing, it's no surprise that May is National Barbecue Month. This month, gather with friends & family to feast and enjoy fun in the sun.
And, since no backyard bash is complete without some tempting sides, we're celebrating National Barbecue Month by giving YOU the recipe for our crowd-pleasing Black-Eyed Pea Southern Succotash!
Check out the recipe below, and be sure to follow us on Pinterest for more of Shirley's Southern Recipes.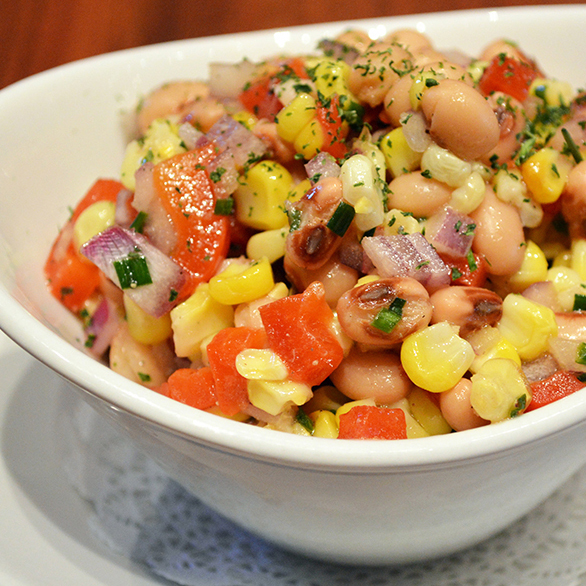 Shirley's Black-Eyed Pea Southern Succotash
Yields: 6 servings
INGREDIENTS
1 large can of Black Eyed Peas (about 20 ounces), drained

2 cups Roasted White Corn

½ Red Onion, diced small

½ cup Roasted Red Peppers, drained and diced small

1 tsp. fresh Garlic, chopped

1 tbsp. fresh Chives, chopped

¼ cup Olive Oil

1/8 cup Red Wine Vinegar

1/8 cup fresh Lemon Juice

1 tsp. Kosher Salt

¼ tsp. Black Pepper
1. In a medium bowl, gently mix Black Eyed Peas, Roasted White Corn, Red Onion, Roasted Red Peppers and Chives together.
2. In a small bowl, mix Garlic, Olive Oil, Red Wine Vinegar, Lemon Juice, Salt and Pepper together for dressing.
3. Pour dressing over top of salad and gently toss to coat.
4. Store covered and refrigerated until needed. Will keep for up to 5 days.