Blog
With September comes cooler weather and plentiful Fall produce, including one of our favorites - Brussels Sprouts!

If you're looking for a quick & easy side dish for Lunch or Dinner, Shirley's Fall Brussels Sprouts Salad with Granny Smith Apples, Dried Cranberries & Apple Cider Vinaigrette is a perfect option!

Get the recipe below, and be sure to follow Miss Shirley's on Pinterest for more of our Southern Recipes!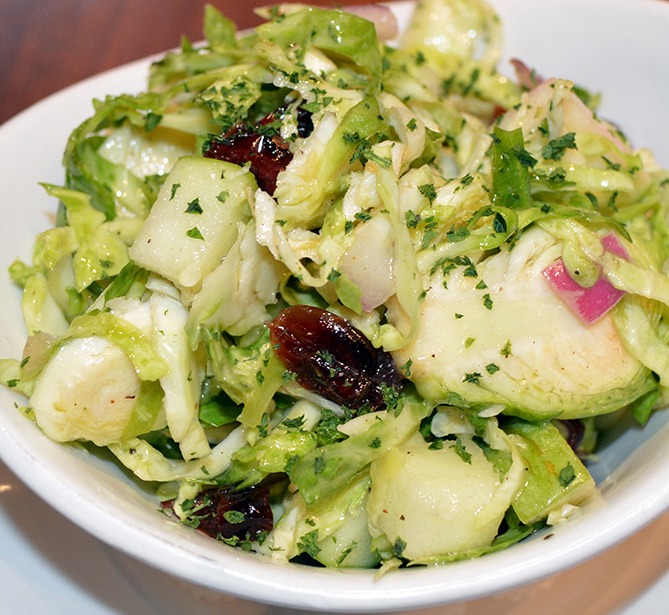 BRUSSELS SPROUTS SALAD (Yields: 2 cups)
INGREDIENTS:
Dressing
3 oz apple cider vinegar

1 oz fresh lemon juice

8 oz olive oil

2 tbsp maple syrup

1 tsp Dijon mustard

½ tsp fresh chopped thyme

1 tsp kosher salt

¼ tsp black pepper
Brussels Sprouts Salad
16 oz shredded brussels sprouts

½ each red onion, thinly sliced

½ each granny smith apples, skin off diced

¼ c dried cranberries

½ c dressing
METHOD:
1. Mix vinegar, lemon juice, maple syrup, mustard, thyme, salt and pepper together well with a whisk. Slowly drizzle in olive oil, while whisking, until combined.
2. Place brussels sprouts, sliced onion, diced apples and dried cranberries in a bowl.
3. Add dressing and toss until evenly mixed. Season with salt & pepper to taste, if needed.
4. Serve immediately or refrigerate for up to 3-4 days.