Blog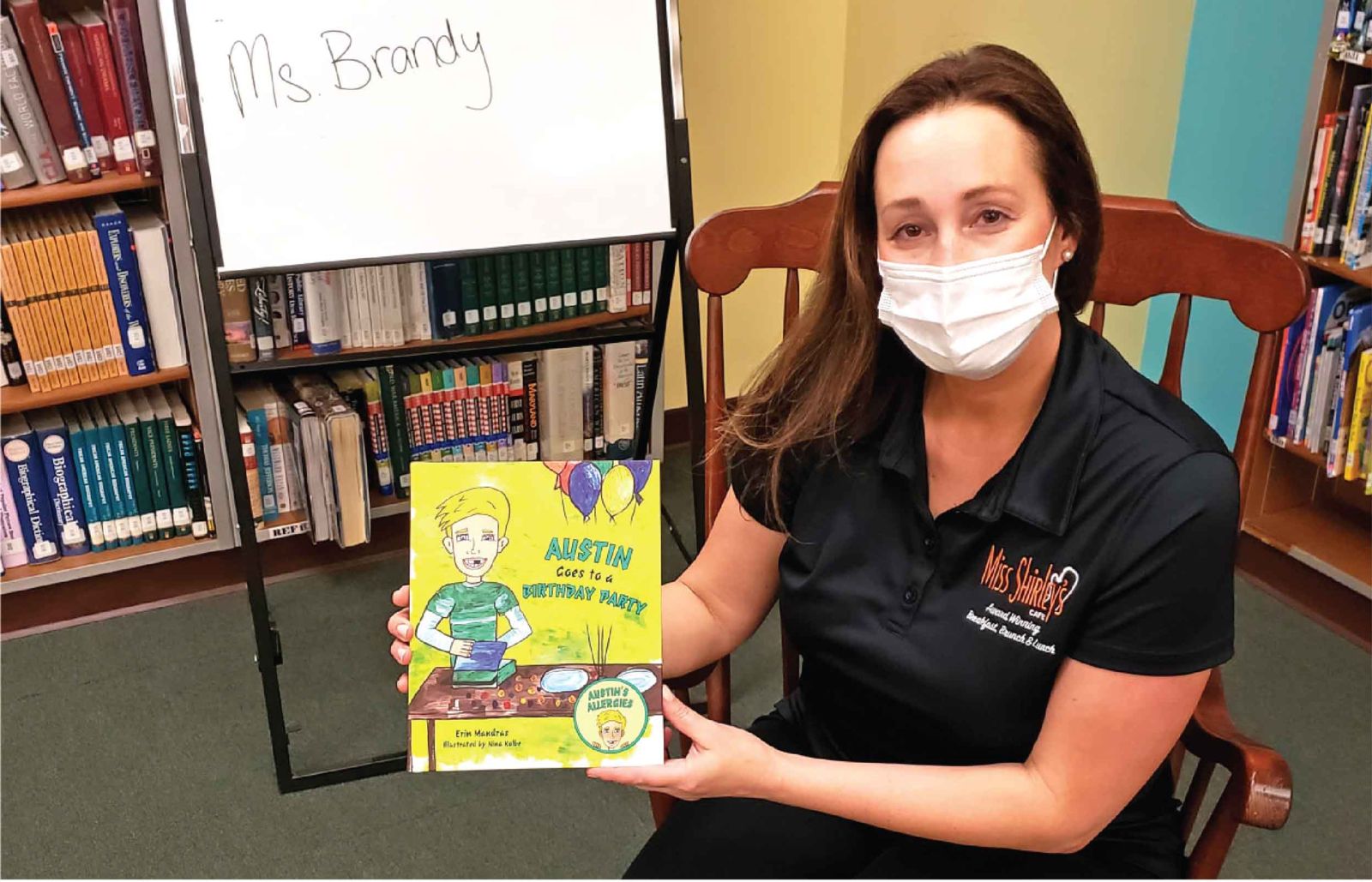 MISS SHIRLEY'S CAFE DONATES CHILDREN'S ALLERGY AWARENESS BOOKS TO ANNE ARUNDEL COUNTY PUBLIC ELEMENTARY SCHOOLS
In celebration of 10 years of support from the Annapolis community and to raise awareness and educate students on the severity of food allergies.
As a local, family-friendly restaurant, Miss Shirley's Cafe takes food allergies seriously, and has become a staple in the Annapolis community for many with food allergies over the last 10 years in business. In fact, this month we are celebrating the 10 Year Anniversary of Miss Shirley's Cafe Annapolis, and we know we could not have reached this tremendous milestone without the continuous support of our loyal guests! Therefore, the restaurant's recent goal is to raise awareness and educate students on the severity of food allergies, especially in May during Food Allergy Education & Awareness Month and in October for the Teal Pumpkin Project every year.
That is why the managing members of Miss Shirley's Cafe, both former elementary school teachers, who have a daughter with life-threatening food allergies, decided to donate the book, Austin Goes to a Birthday Party, written by Erin Mandras to 87 Anne Arundel County Public Elementary Schools. "We value education and advocacy about a topic so near and dear to our hearts in schools," says Mrs. Dopkin.
Over eight years ago, our restaurants implemented an extensive allergy policy, which requires our servers & hosts to ask, before taking any orders, if there are any food allergies at their guest tables, as well as for to-go orders. If a team member is alerted of an allergy, they are required to discuss the concern with the Manager, who speaks with the guest and the Chef, to take extra precautions.
In addition to our extensive allergy policy, all Managers, Chefs, and Management Team Members are required to take the ServSafe Allergens Online Course and Assessment through the National Restaurant Association, as part of our allergy training every 3 years. When completed, each team member receives a certificate. We also review allergy procedures and training at our Mandatory Team Member Meetings four times a year.
Every three minutes, a food allergy reaction sends someone to the emergency room in the United States. This is why as a family-friendly restaurant, it is extremely important to not only ensure that our guests with food allergies, who dine at any Miss Shirley's restaurant location, feel safer and more comfortable dining with us; but also, to support Food Allergy Research & Education and The Allergy & Asthma Network, to help make an impact on a larger scale as well.
Miss Shirley's Cafe hopes the donation of Austin Goes to a Birthday Party, which is a rhyming story about Austin, a child who has serious food allergies, will give Anne Arundel County students the tips and advice they need to be careful around their peers, or anyone, that has food allergies.
In fact, Miss Shirley's Cafe is planning to partner with an Anne Arundel County Public Elementary School to have a Guest Storytime Event to be scheduled in the near future, where Mrs. Dopkin will be reading Austin Goes to a Birthday Party to a group of students. Educational printables will be provided to the students, and we will have a short discussion about the severity of food allergies. Miss Shirley's Cafe will also be gifting all students Grades 1-5 an orange Miss Shirley's Pencil, Activity Mats, and a pack of crayons.
Miss Shirley's Cafe Roland Park, Inner Harbor and Annapolis offer breakfast themed children's books for our little misses & misters to read while waiting to be seated or enjoy quietly when eating breakfast or lunch. These books include, "Everyone Loves Bacon" by Kelly DiPucchio, "Lady Pancake & Sir French Toast" by Josh Funk, "Woodpecker Wants A Waffle" by Steve Breen, "If You Give a Pig a Pancake" by Laura Numeroff, "Guinness World Records Fun with Foods" by Christy Webster, "Green Eggs and Ham" by Dr. Suess, "Max's Breakfast" by Rosemary Wells, "Pancakes, Pancakes!" by Eric Carle, and "Pancakes for Breakfast" by Tomie DePaola.
The restaurants have earned many Kid-Friendly awards including Best Sunday Brunch & Best Family-Friendly Restaurant - What's Up? Magazine Best of Annapolis Food & Dining (May 2021), Best Family-Friendly Restaurant - Baltimore's Child Magazine Readers' Choice (July 2021), Best Family Dining & Best Restaurant with Entertainment/Diversions - Baltimore's Child Magazine Readers' Choice (August 2020), Kids' Favorite Menu - Chesapeake Family Life's Family Favorites (August 2021 & July 2020), America's Favorite Family Friendly Restaurant – Food Network (December 2016) and 5 Spots for Kid Friendly Eats - Annapolis Discovered (September 2020). In addition, in 2018, we were presented with the Cornerstone of the Industry Award from The National Restaurant Association of Maryland for our work & advocacy with Food Allergy Research & Education (FARE). This award is given to a Maryland company who best illustrates that the foodservice industry stands as the cornerstone of their community. The awardees support their local community through financial support to non-profits, schools, and sports teams, while creating job opportunities.
ABOUT THE BOOK:
Meet Austin! He's a kid just like everyone else but with some serious food allergies! In this rhyming story, you'll get tips and advice on how to be careful with allergies.
Birthday parties are the absolute best. With food allergies, Austin is different from the rest. He discusses details about food allergy safety. And what friends can do to help him navigate bravely. Austin even offers ideas for a party favor. Nonfood items definitely keep him safer. Finally, by following his rules, he won't miss the fun. Food allergies won't stop him from being with everyone.
ABOUT THE AUTHOR:
Erin Mandras is a mother to three boys: Levi, Austin, and Nolan, and wife to Jon, a dentist. Erin's passion for helping others has led her down a path of writing and speaking. Her son, Austin, has multiple life-threatening food allergies, and as a result of her personal experiences, she is on a mission to raise awareness and educate others. Erin also publicly speaks and writes for Kick The Scale about eating disorders and body positivity all based around her story of developing, battling, and overcoming an eating disorder as a college athlete. Her story and more information can be found on KickTheScale.com.
Erin was also a Loyola University Maryland Soccer Coach and lived in Baltimore, MD for several years.
To set up an interview, reading, signing, or for information regarding Austin Goes to a Birthday Party please contact Erin Mandras at ErinMandras@Gmail.com. To learn more, visit www.AustinsAllergies.com.
***Allergy Disclaimer*** Please speak to the manager regarding any known food allergies prior to ordering. Miss Shirley's Cafe will use reasonable efforts to prevent the introduction of the allergen of concern into the food through close attention during our sourcing, preparation and handling processes. However, it is ultimately up to the guest to use his or her individual discretion to make an informed choice regarding whether to order any particular items. Miss Shirley's Cafe cannot guarantee that allergens may not have been introduced during another stage of the food chain process or, even inadvertently, during preparation. We do not have separate kitchens to prepare allergen-free items or separate dining areas for guests with allergies or intolerances.