Blog
At Miss Shirley's Cafe, we are incredibly fortunate to have such a dedicated & passionate team, which is why we are so proud that two leaders on our Management Team have been nominated for local awards!
Do you love the flavor & flare of Miss Shirley's delectable dishes, monthly specials and seasonal staples? Be sure to cast your vote for Miss Shirley's Corporate Executive Chef Zuri Coles as Best Chef in the Baltimore Magazine Best Restaurants Readers' Poll! And if Miss Shirley's Cafe is your go-to spot for award winning Brunch & Lunch, convenient Takeout or Al Fresco Patio Dining, we would love your support in those categories as well!
VOTE FOR ZURI & MISS SHIRLEY'S CAFE -> Bmag.co/BRRP22
Can't get enough of the family friendly, warm inviting atmosphere, exceptional hospitality & service at Miss Shirley's Roland Park location? Take a second to also vote for General Manager Joel Lichtenberg as Restaurant Manager of the Year in the Restaurant Association of Maryland's Annual Industry Awards!
VOTE FOR JOEL -> MarylandRestaurants.com/gala
Learn more about about Corporate Executive Chef Zuri & General Manager Joel below!
Zuri Coles
Corporate Executive Chef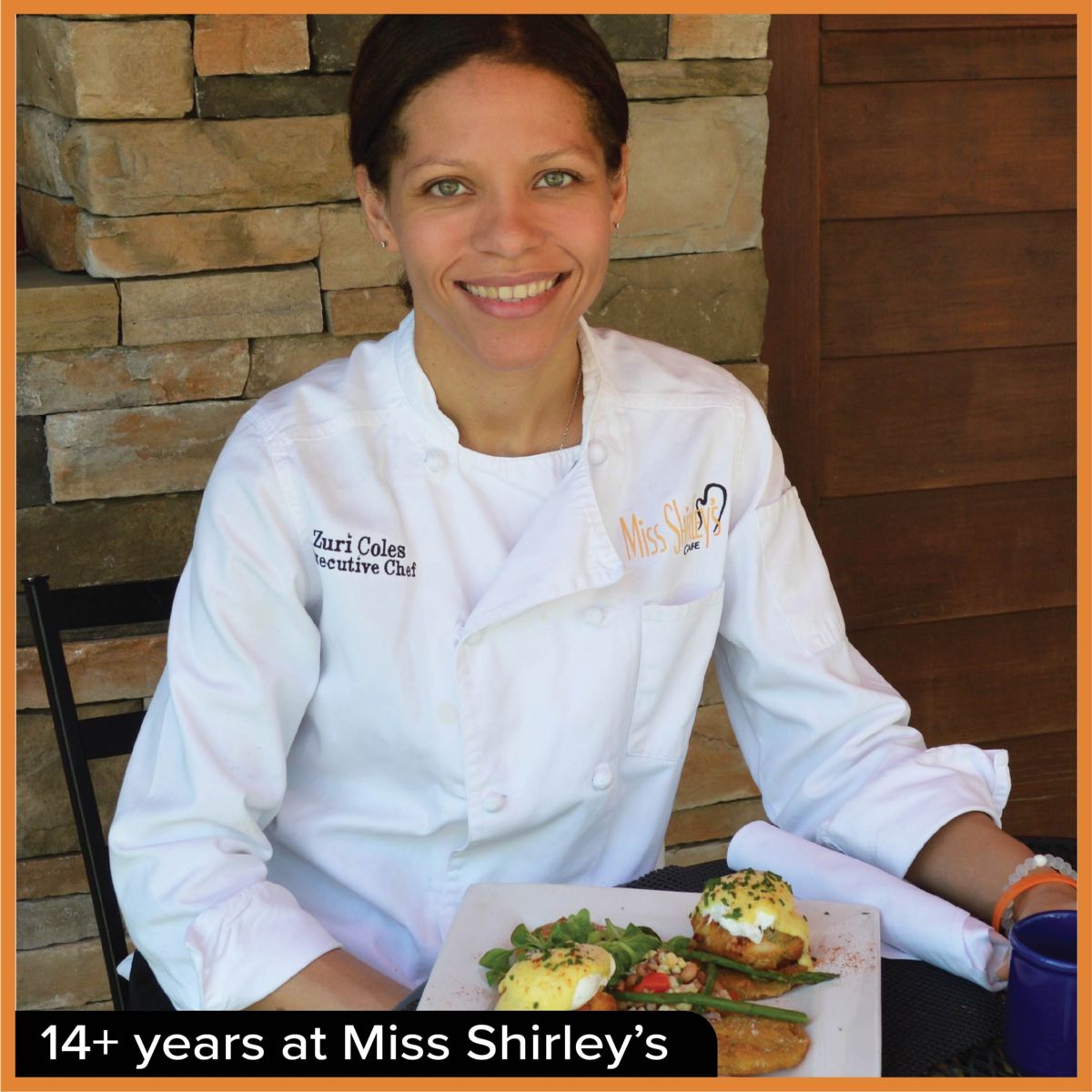 Miss Shirley's Corporate Executive Chef, Zuri, has had a lifelong passion for cooking, which began when she was just a child. Her parents loved to cook, and were always happy to let her experiment in the kitchen. "I learned a lot from my parents, like how to make roux."
Growing up as an avid reader, Zuri enjoyed researching recipes and watching countless episodes of cooking shows like Julia Child, The Galloping Gourmet, and Yan Can Cook on PBS. "I would request cookbooks as holiday gifts!"
After graduating from Loyola University Maryland, she decided to try out culinary school, to turn her lifelong hobby into a career. Zuri finished her education at Johnson and Wales University in 2000, and immediately began working her way up the ranks in the restaurant industry!
She gained experience in Catering and Fine Dining, working in various establishments throughout the Maryland and Washington, D.C. areas. But in 2008, Zuri found a home in Maryland, and as a Chef at Miss Shirley's Cafe. She was later promoted to the role of Executive Chef at our Roland Park location in 2014 & became Corporate Executive Chef in 2021; now managing the Culinary Team at all of our restaurant locations!
In fact, you have likely seen Zuri on FOX45, WBAL, WMAR, WJZ or DC's FOX 5 talking about promotions & new dishes, or on Miss Shirley's social media and Youtube Channel, sharing recipes for our southern classics!
Throughout the pandemic and restaurant dine-in closures, Zuri rolled up her sleeves and went to work, helping to prepare over 18,800 meals in partnership with World Central Kitchen, to be provided to seniors & families in vulnerable communities throughout Baltimore City.
When Miss Shirley's Cafe began our initiative to Feed First Responders, Zuri crafted a delicious menu for individually boxed meals, and led our Culinary Team with ease, in preparing, packaging & providing an additional 1,270 meals to area Healthcare Workers, Community Organizations, Police & Fire Personnel, donated by our loving guests!
Zuri has been cooking professionally for over 21 years, and a Chef at Miss Shirley's Cafe for 14+ years! Her creativity and experience are invaluable, as she continues to play the key role in the creation of our seasonal menu and monthly specials, and ensures that our Culinary Team is always producing the highest quality dishes. Her love of baking has also inspired delicious dessert items on our menu, as well as sweet treats that she whips up for our team regularly!
Zuri is hard working, dedicated, personable and passionate about the taste and presentation of our food. In fact, her favorite thing about working at Miss Shirley's is the satisfaction of knowing how much our guests truly love our menu, and appreciate the experience that they have at the restaurant.
"The goal is always to make our guests happy, and I love making dishes that people want to eat again and again, and even recreate for themselves!"
VOTE FOR ZURI & MISS SHIRLEY'S CAFE -> Bmag.co/BRRP22
Joel Lichtenberg
General Manager - Miss Shirley's Cafe, Roland Park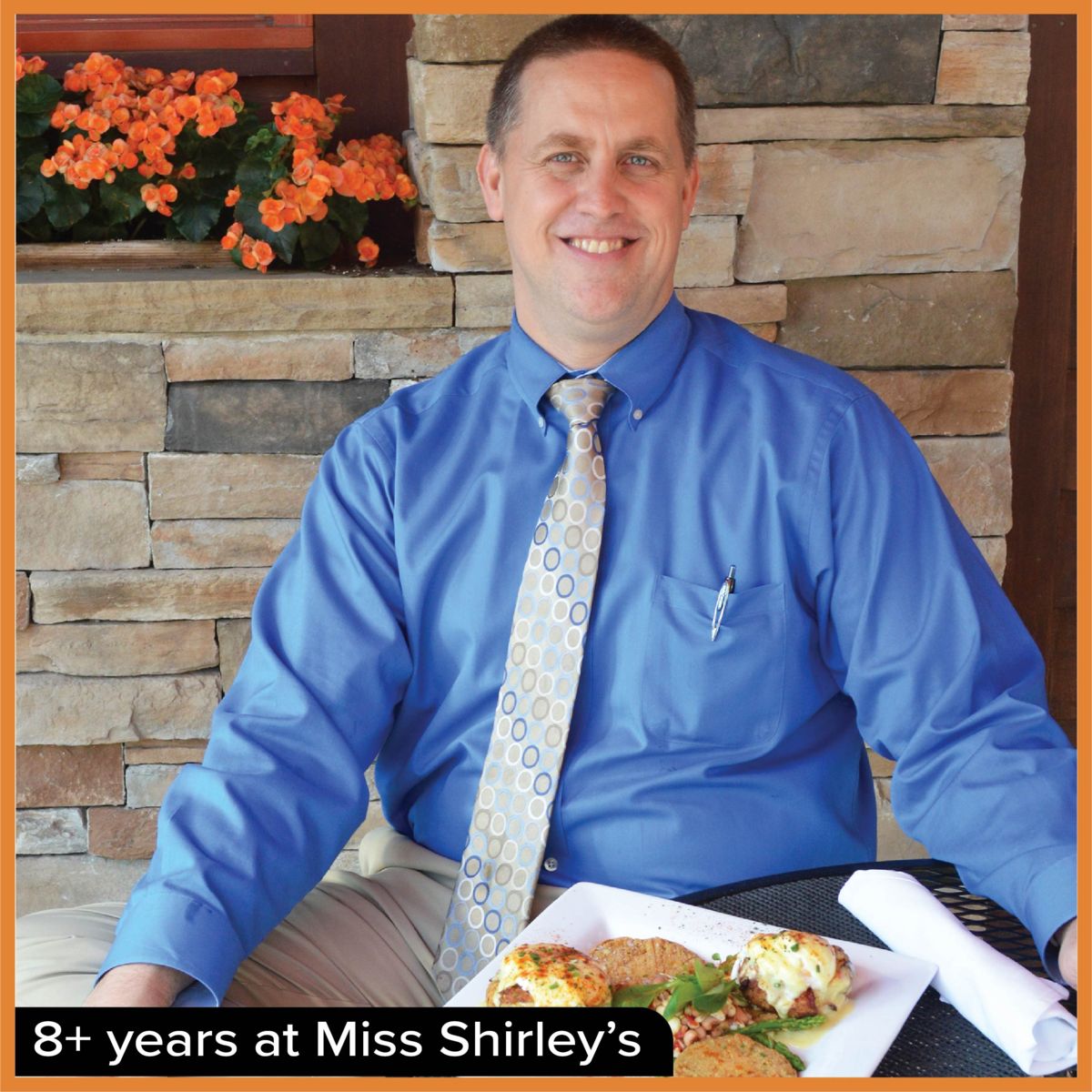 Joel's career in the hospitality industry began at the young age of 14, working as a Cashier at a fast food chain, to fund a trip to Disney World with his best friend's family. After earning enough to enjoy his vacation, Joel continued to work in the industry at several different fast casual and full service restaurants. "I have done every job in the industry from Dishwasher and Cashier, to Server and Manager."
At the age of 18, Joel got his first Manager position at an Italian restaurant, and has continued working in restaurant management for 27 years!
He joined the Miss Shirley's Cafe team shortly after the owner, Eddie passed away in 2013. The brand was well-recognized, and things were in order, but our internal team and the community were missing the heart of Eddie. David, Eddie's son took on this tremendous role, and to do it effectively and genuinely, he needed a wingman - the right person to now manage the flagship location.
Joel has now been the General Manager of our Roland Park location for over 8 years, and effortlessly runs the day-to-day operations, alongside other leaders, handling hospitality, recruitment, training, repairs, and overall logistics. He stays calm under pressure, works hard & efficiently, and helps wherever needed – hosting, serving, expediting, running food, bussing, and prepping!
Joel's professional, fun & positive personality shines through every day, gaining him the respect, adoration, and loyalty of the Miss Shirley's team & guests! His passion for people shows in his management style, as he makes it his mission to talk to every guest table and ensure that his guests are well taken care of - even if it means performing CPR!
"I was managing at a restaurant one night many years ago, and an elderly man went into cardiac arrest. It just so happens that I am certified in CPR and with the help of a nurse at a nearby table, we performed CPR for 20 minutes before the paramedics arrived. A month or so later, the man's daughter and her husband came to the restaurant and both gave me a huge hug, thanking me for helping save her father's life."
Many of our regular guests ask for Joel, when dining; and from his daily table visits, he knows all of their names, families, and favorite Shirley's menu items!
He says, "Interacting with guests and building relationships is what it's all about. I want people to feel like they are guests in my house – I treat our guests like family. I want them to feel at home, coming to eat." Server, Andrew says, "I've never seen a manager touch so many tables. Everyone he talks to ends up with a smile on their face!"
Joel says that his love for the hospitality industry stems from the relationships it has brought into his life. Longtime guest, Amy says, "Our family has been loyal guests of Miss Shirley's for years and a lot has to do with Joel – we now call him a friend! From the first time he came to our table, to ensure our son's allergies would be taken seriously, we knew Joel was the epitome of a professional. When it was time for our daughter to find a job, we encouraged her to work at Miss Shirley's, and we're so happy she did! Joel taught her to be a hard worker."
As a Manager, Joel also understands the importance of making work enjoyable. He leads with a contagious energy that brings life to the restaurant. "I want my team to love coming to work," says Joel. There are countless examples of individuals that have passed through, who have had zero restaurant experience, and Joel has helped them find a home at Shirley's.
"It's always a pleasure working with Joel. He keeps the energy high and is super-efficient. I've worked with him for 8 years, and he's always in great spirits!" says server, Bill.
Joel's proud daughters, who are servers, said, "Not many fathers get the privilege of having everyday be "Bring Your Daughters to Work Day", however, the privilege is all ours. Our Dad gives 100% and we are honored to learn from him. He treats everyone with the respect, and it shows in our work environment. We are glad everyone can see the amazing, hardworking, & supportive Dad we know and love."
Another loyal guest, Tippy, says, "Joel sets the bar high for restaurant Managers. He is so kind, personable, and makes patrons feel special. The restaurant works as a well-oiled machine. Whenever a problem arises, Joel handles it with grace and wisdom. All the staff are so congenial since they learned from the best. If I owned a restaurant, I would want him to work for me. There's only one Joel!"
VOTE FOR JOEL -> MarylandRestaurants.com/gala