Blog
When it comes to Southern Specialties, Fried Green Tomatoes are at the top of the list – which is why our Signature Fried Green Tomatoes with Lemon-Herb Aioli & Chow Chow are a staple on our seasonal menu.
Check out Corporate Executive Chef Brigitte Bledsoe's Recipe Below!
And don't forget to follow us at Pinterest.com/MissShirleys to stay updated on more of our Delicious Southern Recipes!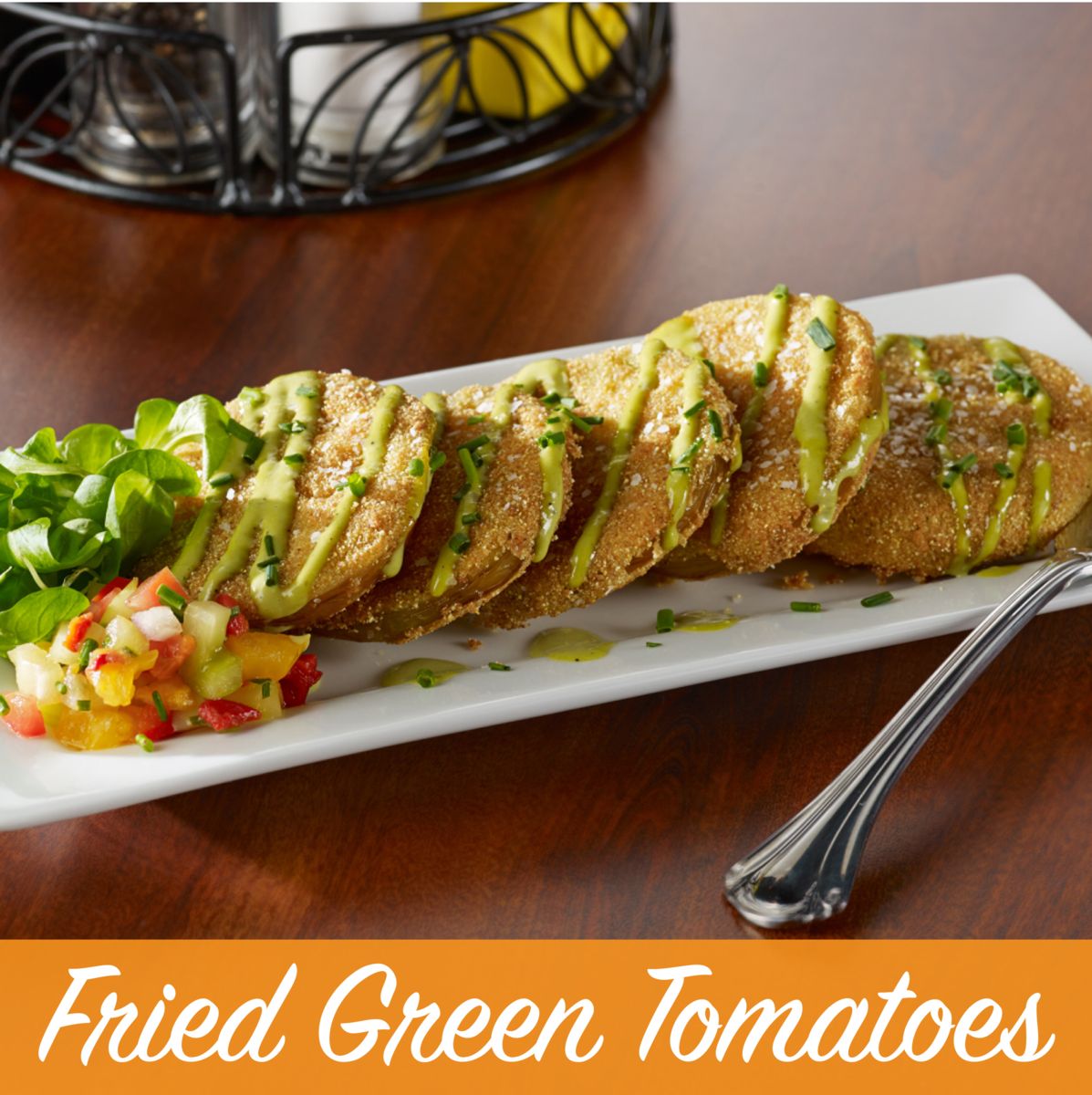 Miss Shirley's Signature Fried Green Tomatoes
Yields: 3-4 Servings
Breading
Ingredients:
1 cup Flour

2 cups Yellow Cornmeal

2 tablespoon Cajun Spice

1/2 cup Sugar
1. Combine ingredients in a bowl and mix.
Lemon Herb Aioli
Yields: 1 pint of Lemon Herb Aioli
Ingredients:
½ cup Fresh Parsley (rough chopped)

½ cup Fresh Chives (rough chopped)

1 tablespoon Fresh Basil (rough chopped)

1/8 cup Lemon Juice

¼ teaspoons Tabasco Sauce

1 teaspoons Dijon Mustard

1 cup Mayonnaise

½ cup Sour Cream

½ teaspoons Kosher Salt
1. Place basil, chives, parsley in a blender.
2. Add lemon juice and blend well.
3. If needed a small amount of water can be added, just enough to help the machine chop the herbs. The herbs should end up chopped finely and dark green in color.
4. In a bowl using a wire whisk mix together the mayonnaise, sour cream, mustard, tabasco, and salt.
5. Add in the herb mixture and mix until completely incorporated
Chow Chow
Yields: about 1 quart Chow Chow
Ingredients:
2 Green Tomatoes

½ Red Bell Pepper

½ Yellow Bell Pepper

½ Vidalia Onion

1 Small Jalapeno

1 ½ cups Apple Cider Vinegar

½ cup Water

¼ cup Kosher Salt

1 ¼ cup Sugar
1. In a small pot heat the vinegar, water and salt to a boil.
2. Do not let the mixture continuously boil or you will evaporate the liquid and concentrate the salt making it too salty.
3. Once it has boiled turn the pot off and add in the sugar, whisking to dissolve.
4. Cut the tomatoes, peppers, onion in a large dice.
5. In small batches place the vegetables into a food processor and pulse until you have a medium to fine chop. (If you like make it finer or you can leave it chunkier depending upon your preference.)
6. Add the vegetable mix into the hot vinegar mixture and stir to incorporate
7. Let this set out at room temp for several hours (2 hours is a good minimum- max 6 hours)
8. Store in a sealed container in the refrigerator.
Fried Green Tomatoes
Yields: 3-4 servings
Ingredients:
3 Green Tomatoes

¼ cup Honey

1 pint Buttermilk

Fried Green Tomatoes Breading

Kosher Salt to taste
1. Slice Green Tomatoes about a quarter inch thick.
2. Place Green Tomatoes in large bowl.
3. Mix Honey and Buttermilk together and pour over Green Tomatoes. Gently toss to coat.
4. Place Green Tomato Slices in Breading, one at a time to coat both sides.
5. If you do not have a home fryer, prepare nonstick skillet with canola oil.
6. Place Green Tomatoes in nonstick skillet and flip tomatoes after about 2 min. Fry until golden brown.
7. Immediately sprinkle lightly with Kosher Salt.
8. Serve hot, garnished with a side of Chow Chow & drizzled with Lemon Herb Aioli.
9. Enjoy!