Blog
While we'll miss warm sunny days and summer fun, there is a lot to look forward to in the upcoming cooler months - like hearty Fall soups!
There's no better way to chase away Fall's chill than with a nice, hot bowl of Miss Shirley's Signature Chicken & Corn Chowder.
If this comforting classic is one of your favorites, then you're in luck! Stop by and enjoy a bowl at any Miss Shirley's location this season, or get the recipe below, to make it at home.
Don't forget to follow us on Pinterest for more Signature Southern Recipes!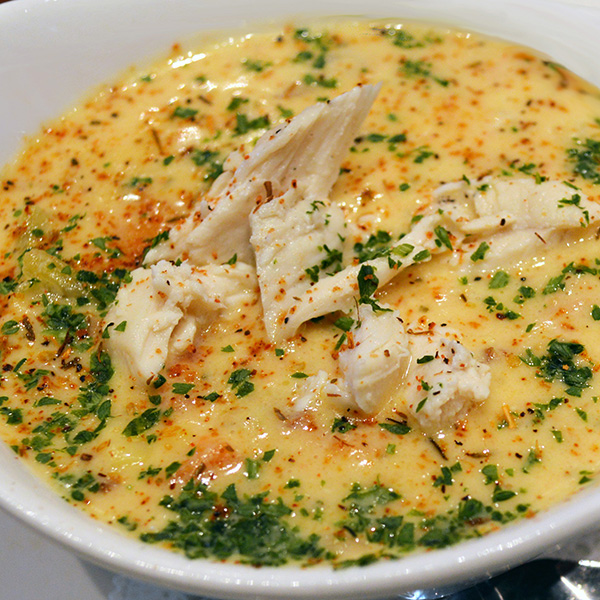 CHICKEN & CORN CHOWDER (Yields: 6-8 Servings)
Miss Shirley's Cafe
INGREDIENTS
1 lb Boneless, Skinless Chicken Breast (Baked and Shredded)

½ c Diced Bacon

3 ea Celery Stalks, Diced

1 ea Small White Onion, Diced

1 ea Red Pepper diced

1 tsp Garlic, Chopped

1 Large Sweet Potato, Peeled and Diced (Blanched in water)

1 c Roasted Corn

4 ea Green Onions, Chopped

1 tbsp Parsley, Chopped

1 pt Heavy Cream

1 pt Whole Milk

1 qt Chicken Stock

1 ea Bay Leaf

Dash of Tabasco

Salt and Pepper to taste

4 oz Unsalted Butter

¼ c Flour
1. In small pan, over medium heat, melt Butter.
2. Using a wire whisk, slowly add in Flour, stirring to remove lumps.
3. Let mixture cook for 1-2 minutes, over low heat, stirring constantly until it is the consistency of wet sand. Remove from heat and save for later.
4. In large stock pot, over medium heat, sauté Bacon, stirring constantly until Bacon begins to brown and get crispy.
5. Add Onions, Celery, Bay Leaf, Garlic, and Red Peppers. Cook for 2-4 minutes until Vegetables begin to soften, stirring occasionally.
6. Add cream, milk, and stock. Bring to a boil. Lower heat to a simmer and using wire whisk slowly add in the flour/butter mixture stirring constantly to remove lumps.
7. Add in Sweet Potatoes, Corn, Shredded Chicken, Green Onion and Parsley. Stir well.
8. Add Tabasco and season with Salt and Pepper to taste.
9. Serve hot & garnish to your liking!