Blog
When we think of Fall comfort foods, one delicious ingredient comes to mind – Sweet Potatoes! If you love Miss Shirley's Signature Sweet Potato Bisque, then you're in for a treat.
Check out Corporate Executive Chef Brigitte Bledsoe's Recipe below and cozy up to your own delicious bowl of Sweet Potato Bisque today.
And don't forget to follow us on Pinterest to stay updated on more of our Delicious Southern Recipes!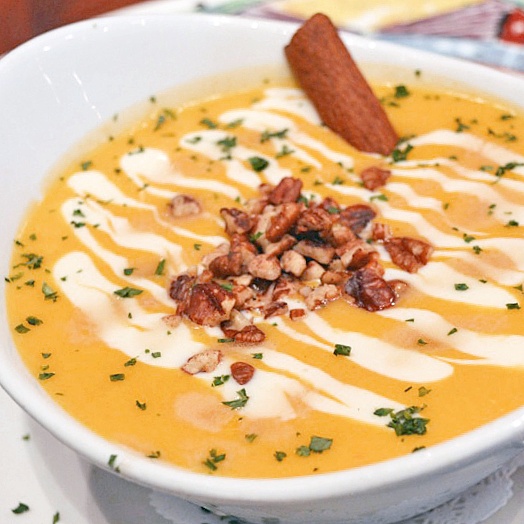 SWEET POTATO BISQUE WITH MAPLE CREAM (Yields: 6-8 Servings)
Miss Shirley's Cafe
INGREDIENTS:
1 lb Sweet Potatoes, Peeled and Diced

2 each Carrots, Peeled and Diced

½ each White Onion, Diced

1 tsp Garlic, Chopped

4 oz Unsalted Butter

1 c Heavy Cream

1/4 c Brown Sugar

2 oz Butter, Unsalted

1/2

tsp Ground Cinnamon

1/4 tsp Ground Nutmeg

1 tbsp Maple Syrup

1/2 c Sour Cream

1 c Pecan Pieces

Salt and Pepper to Taste
1. In large pot, place Sweet Potatoes, Carrots, Garlic and Onion
2. Cover with Water, add a teaspoon of Salt, and bring to a boil.
3. Let simmer until ingredients are soft and tender.
4. Strain liquid out and reserve for later.
5. In a food processor, blend Sweet Potatoes and Carrots with Butter, Brown Sugar, Heavy Cream, Cinnamon, and Nutmeg.
6. Blend until smooth, using reserved cooking liquid to thin out the soup, as necessary.
7. Add Salt and Pepper to taste.
8. Mix Sour Cream and Maple Syrup in small bowl until well incorporated.
9. In oven heated to 375 degrees, toast Pecans for 2-3 minutes, taking care not to burn them.
10. Place soup in bowls, drizzle with Maple Cream and sprinkle with Toasted Pecans. Serve hot.