Blog
When we think of the Holiday Season, several Festive Foods come to mind, and one of them is Gingerbread! At Miss Shirley's, we try our best to incorporate Fun Festive Dishes as our Monthly Specials during the Holiday Season, and that's why we are offering our delicious Gingerbread Cheesecake Stuffed French Toast at our Roland Park location during the month of December.
Is your mouth watering over this cookie-crumbling concept? Get Corporate Executive Chef Brigitte Bledsoe's Recipe below and surprise your loved ones with a Homemade Holiday Brunch this year!
And don't forget to follow us on Pinterest to stay updated on more of our Delicious Southern Inspired Recipes!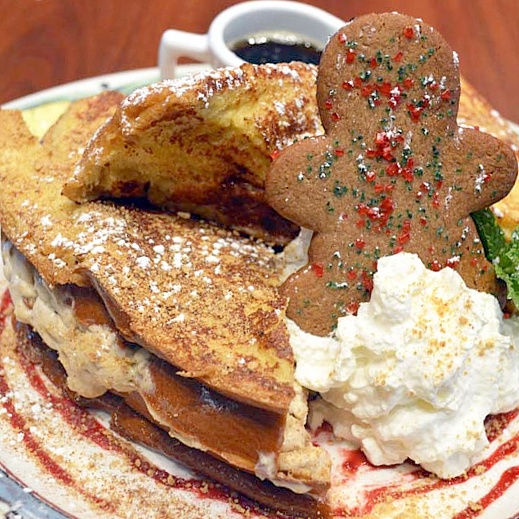 GINGERBREAD CHEESECAKE STUFFED FRENCH TOAST
(Yields: 4 Servings)
Miss Shirley's Cafe
FRENCH TOAST BATTER:
6 Eggs

½ cup Heavy Cream

2 cups Whole Milk

2 tablespoons Brown Sugar

1 teaspoon Vanilla Extract

½ teaspoon Almond Extract

½ teaspoon Ground Cinnamon

¼ teaspoon Ground Nutmeg
1. Place all ingredients in a large bowl.
2. Whisk until all ingredients are well mixed.
CHEESECAKE FILLING:
8 oz. Cream Cheese (at room temperature)

1 tbsp. Brown Sugar

1 tbsp. Powdered Sugar

1/2 tsp. Vanilla Extract

1/2 tsp. Ground Ginger

1/4 tsp. Ground Cinnamon

1/8 tsp. Ground Nutmeg

1/8 tsp. Allspice

1 c Crushed Gingerbread Cookies
1. In a mixing bowl beat Cream Cheese for 1-2 minutes.
2. Add in all Sugars and Spices, and beat for 1-2 more minutes until well mixed.
3. Fold in Crushed Gingerbread Cookies.
GINGERBREAD CHEESECAKE STUFFED FRENCH TOAST:
1 loaf Challah Bread

2 c French Toast Batter

Gingerbread Cheesecake Filling

Fresh Whipped Cream

Crushed Gingerbread Cookies

Powdered Sugar
1. Slice Challah Bread into four thick slices with a slit in the top center.
2. Stuff Gingerbread Cheesecake Filling inside the sllit Challah Bread, evenly among the four pieces.
3. Dip stuffed Challah Bread into the French Toast Batter and places in hot pan over medium heat.
4. Cook until browned and hot in center.
5. Slice in half on a diagonal and place on plate.
6. Garnish with Fresh Whipped Cream, sprinkle with more Crushed Gingerbread Cookies and Powdered Sugar.