Blog
Want to surprise your Sweetie with a Special Homemade Valentine's Breakfast or Brunch this year?
Get the recipe for Miss Shirley's decadent Red Velvet Cheesecake Stuffed French Toast below!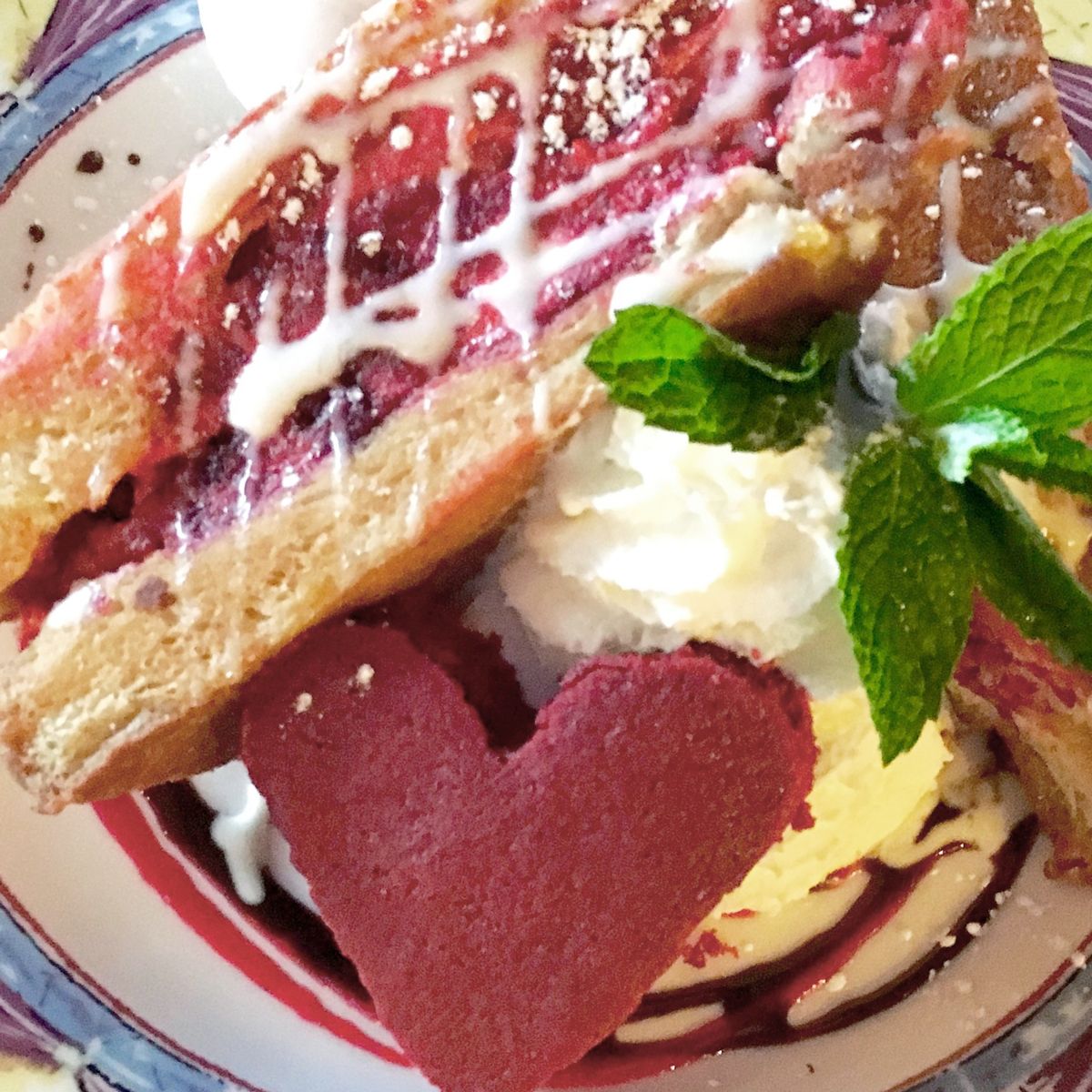 RED VELVET CAKE STUFFED FRENCH TOAST (Yields: 4-6 Servings)
Miss Shirley's Cafe
RED VELVET CAKE
¼ lb. Butter (room temperature)

¾ c. Sugar

1 Egg

3 ½ tbsp. Cocoa Powder

3 tbsp. Red Food Coloring

½ c. Buttermilk

1 c. plus 6 tbsp. All-Purpose Flour

½ tsp. Baking Soda

½ tsp. Table Salt

½ tsp. White Vinegar

1 tsp. Vanilla Extract
1. In a mixer, mix together butter and sugar for 2-3 minutes, scraping down sides of bowl.
2. Slowly add egg and mix together.
3. In a small bowl, mix cocoa powder, red food coloring & vanilla extract, mixing well until it becomes a paste.
4. Add paste to butter mixture and mix well.
5. Add in buttermilk and flour, mixing slowly and alternating ingredients.
6. Add in baking soda, salt & white vinegar and mix well.
7. Scoop batter into a sheet tray.
8. Bake at 350 degrees for about 20 minutes, rotating halfway through.
9. Cool and remove from tray.
CHEESECAKE FILLING:
1 c. Powdered Sugar

1 lb. Cream Cheese, softened

1 tsp. Vanilla Extract

2 tbsp. Cocoa Powder

1 tbsp. Red Food Coloring
1. Place all ingredients in a stand mixer.
2. Using the paddle attachment, mix until well blended.
FRENCH TOAST BATTER
Ingredients:
6 Eggs

½ c. Heavy Cream

2 c.Whole Milk

2 tbsp. Brown Sugar

1 tsp. Vanilla Extract

½ tsp. Almond Extract

½ tsp. Ground Cinnamon

¼ tsp. Ground Nutmeg
1. Place all ingredients in a large bowl.
2. Whisk until all ingredients are mixed well.
RED VELVET CHEESECAKE STUFFED FRENCH TOAST
1 Loaf Unsliced Challah Bread

French Toast Batter

2 each Red Velvet Cake Hearts, chopped

Cheesecake Filling

1 to 2 tbsp. Butter

2 c. Graham Cracker Crumbs

Raspberry Sauce

Whipped Cream

Cream Cheese Icing

Powdered Sugar
1. Slice challah bread about 2 in. thick with serrated knife.
2. Split each slice in the middle (not completely through) to form a pocket.
3. Once red velvet cake is cool, use a heart-shaped cookie cutter to cut heart garnishes. Keep scraps to fold into cheesecake filling.
4. Stuff inside about 1/2 c. each of the cheesecake filling & red velvet cake scraps.
5. Heat a large sauté pan over medium heat.
6. Add 1/4 of the butter and melt.
7. Dip all sides of the stuffed challah bread in the french toast batter & coat in graham cracker crumbs.
8. Place in pan and cook 3-5 minutes on each side until toast is browned and stuffing is hot. (You may need to press the toast down a bit to ensure that it is cooked evenly.)
9. When done, remove toast from pan and slice on a diagonal using serrated knife.
10. Decorate plate with raspberry sauce & place finished french toast on the plate.
11. Garnish with a dollop of whipped cream & a red velvet cake heart.
12. Drizzle with cream cheese icing & dust with powdered sugar. Serve with maple syrup.